The stubborn Cocos Fire that burned more than two dozen structures in a days-long rampage through San Marcos and western Escondido appeared to pose less of a threat Saturday morning.
As of 9:30 a.m., Cal Fire officials said the Cocos Fire was 70 percent contained, with full containment expected by Sunday. At this point, officials say the fire activity is "limited to smoldering areas within the perimeter."
Though some evacuated residents have been allowed to return home, other evacuation orders remain in place. This includes Questhaven south of Elfin Forest through Harmony Grove and the area east of Twin Oaks Valley Road along Barham Drive and south into the Coronado Hills community.

Also still closed as of Saturday morning are the communities of Hidden Hills and Live Oak. Country Club Road from Hill Valley to Harmony Grove Road and Kauana Loa to Harmony Grove. Harmony Grove will remain closed at Country Club Drive.

Officials said the shelter at Mission Hills High School at 1 Mission Hills Court in San Marcos remains open to serve evacuees.
On Friday, the situation was much different, as officials worried about the blaze's push to the south.
What sparked Wednesday as a small brush fire on a hillside behind Cal State in San Marcos exploded into a 2,520-acre wildfire that reduced homes to rubble and forced thousands of people to evacuate, fed by strong winds and dangerously low humidity.
San Diego county assessment teams were combing the area Friday, trying to pull together official numbers -- a task complicated by live power lines on the ground, as fire crews have warned the media. By late Thursday, the county confirmed that at least 11 single-family homes and 25 structures at the Harmony Grove Spiritualist Association were destroyed.
NBC 7 crews had counted at least two dozen buildings burned. Among those were four or five residential homes and more than a dozen buildings burned in the Harmony Grove area, with an additional four homes in Eden Valley and an additional four homes burned in the San Marcos area.
Four homes on Country Club Drive suffered significant damage, as did one on Washingtonia near Jason Lane, one on Phoenix Way, one on Camino de La Cima, one on Coronado Hills and another one at Coronado Hills Drive and Seaforever Drive.
Harmony Grove Spiritualist, a century-old church retreat nestled in the hills a few miles west of Escondido, on the eastern side of the Cocos Fire, also suffered a devastating loss, with about half of its 30 structures destroyed. Fire crews were working mop-up in and around the retreat.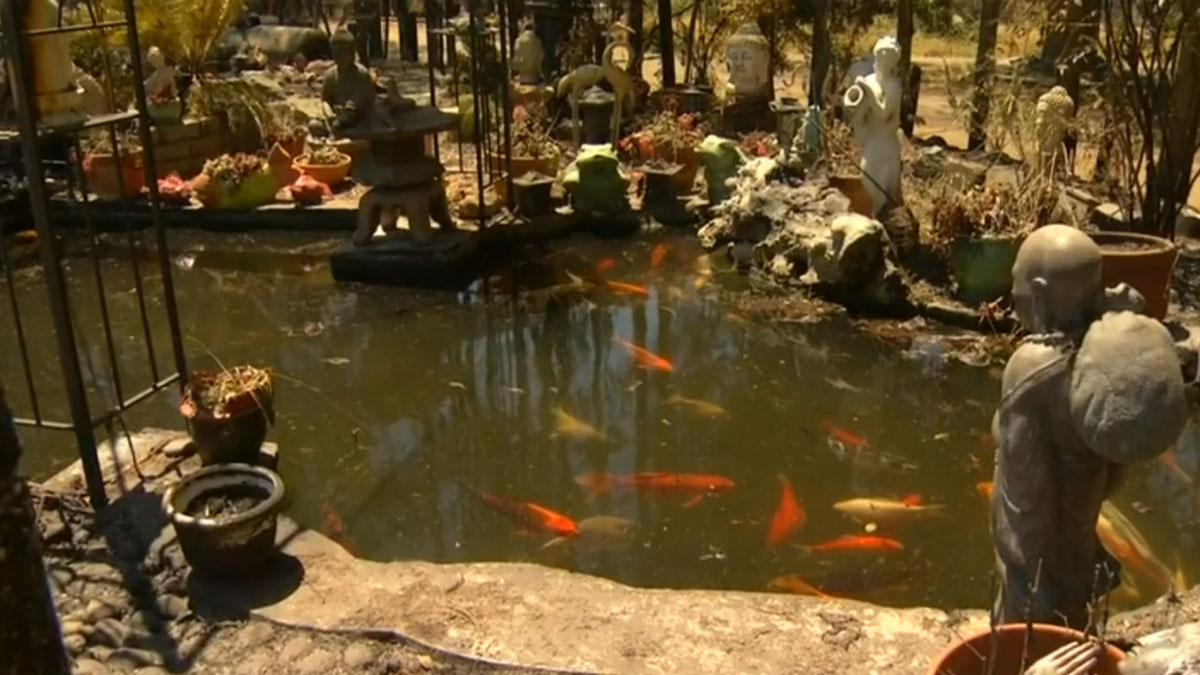 Those structures included a handful of homes, some bungalows, offices and utility buildings. The retreat's Temple of Healing was unscathed, and some two dozen koi survived in a pond on the retreat's 13-acre grounds, located about a 10-minute walk from the nearest road.
Several ranch homes outside the camp's perimeter along South Country Club Drive are also total losses, the members of the association told NBC 7.
"[The fire] took probably two minutes to make it through here and do all this devastation. Two minutes," Captain Nona Barker with the Elfin Forest-Harmony Grove Fire Departmentsaid.
Map of Wildfire Activity and Open Shelters
Fire crews fought to save homes in the Coronado Hills and Harmony Grove communities but reported at least three homes destroyed.
Capt. Greg Lloyd of San Diego Fire-Rescue said crews did everything they could to salvage a hillside home on Phoenix Way. The two-story house was torched Thursday evening when flames jumped a fire retardant line.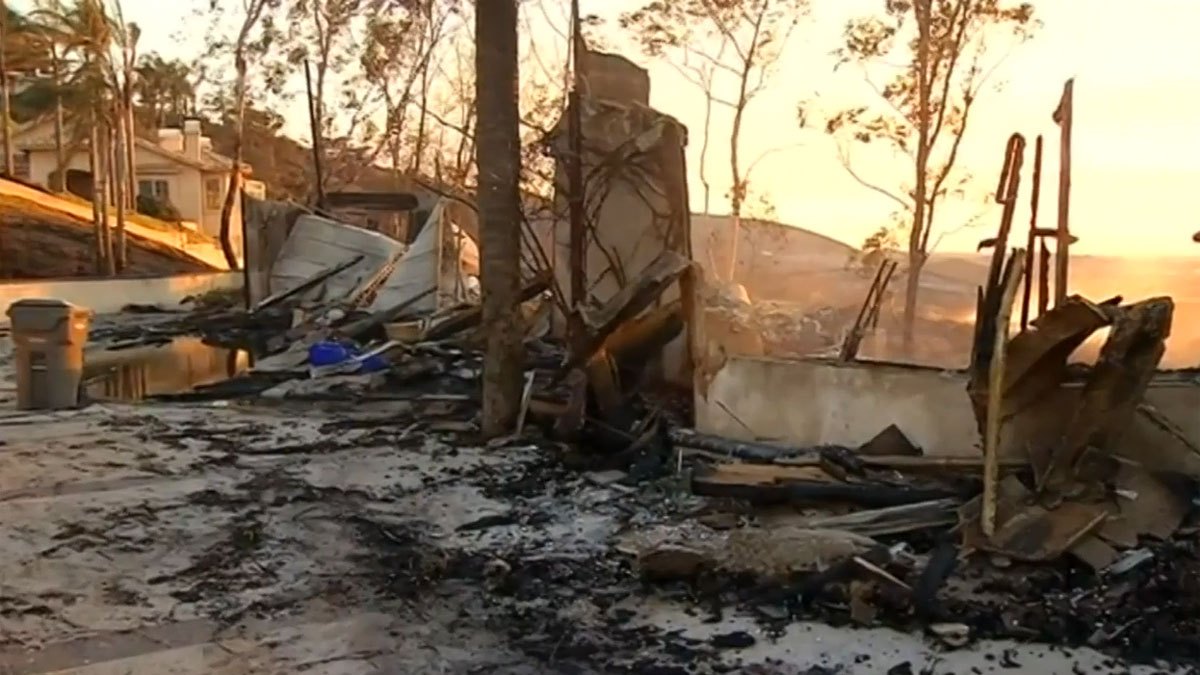 Lloyd said crews pulled burning debris out of the home in an attempt to control the damage, but in the end, they were heartbroken to watch the home and its contents burn to the ground.
Evacuees returning home in San Marcos Saturday detailed some of what they faced as flames came dangeroulsy close to their communities.
"My wife came in that night when the fire was already here," said one resident, who was fighting back tears. "My neighbor sent a picture and the fire was already to the door and she still went it. I'm glad. Ultimately, it probably would have been ok, but for her to risk her life to do it…"
San Diego police say they arrested someone trying to loot an evacuated home west of Escondido on Thursday night and prevented it from being looted.
Officers spotted a car pulling up to the home and determined after questioning that the driver should not be in the area. They did a background check and say the man was wanted on a warrant.
Soon after it sparked Wednesday the Cocos Fire forced the evacuation of Cal State San Marcos campus and dorms, canceled classes at nearby schools and forced Palomar Hospital to shelter in place, cancel elective surgeries and divert incoming patients.
The blaze flared up Thursday and scorched its way through a canyon south of La Moree Road, after prompting evacuations Wednesday from San Marcos south of State Route 78 to western Escondido just west of Interstate 15.
Military helicopters hauled in water drops from Lake San Marcos one after another, in a coordinated effort that drew impressed onlookers.
The DC-10 Super Tanker that had arrived Wednesday to the delight of residents, local officials and firefighters was requested Thursday but down due to pilot availability, Cal Fire said.

Click here for Latest Evacuation Map

On Friday, officials lifted evacuations for some residents:
In San Marcos, those living south of SR-78, west of Twin Oaks Valley Road through the San Elijo Community to San Elijo at S. Rancho Santa Fe may return to their homes. The best route will be Rancho Santa Fe Road.
In Escondido, those living west of Valley Parkway, including the community south of Citracado and west of Del Dios Highway, as well as areas north of Via Rancho and west of Felicita Road may return home.
Those closures still in effect include Questhaven south of Elfin Forest through Harmony Grove and the area east of Twin Oaks Valley Road along Barham Drive and south into the Coronado Hills community and the communities of Hidden Hills and Live Oak. Country Club Road from Hill Valley to Harmony Grove Road and Kauana Loa to Harmony Grove.
Harmony Grove will remain closed at County Club Drive.
For those with damaged or destroyed homes, San Diego County will open a Recovery Liaison Office daily 7 a.m. to 5 p.m. starting Saturday, May 17.
Among the things they can help with clearing away debris, cleaning swimming pools and other recovery and rebuilding information..