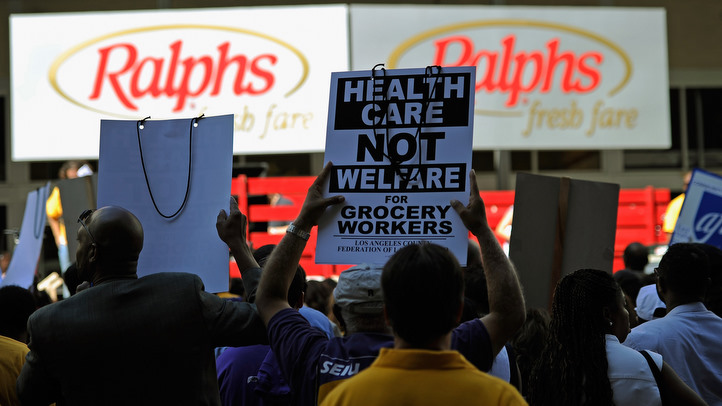 A strike deadline has now passed for Southern California grocery workers, but no one is walking off the job just yet.
The three-day notice period required before calling a strike elapsed at 7:10 p.m. Sunday, but union leaders say negotiations are continuing.
United Food and Commercial Workers Local 770 spokesman Mike Shimpock told the Associated Press after the deadline that union representatives will remain at the bargaining table as long as they feel progress is being made.
"Albertsons, Ralphs and Vons are still at the table with the union," according to a statement from Albertsons.
"Progress is being made, but we do not yet have an agreement. Even though the 72-hour notice period has expired, nothing has changed. The terms of our most recent contract -- including wages and benefits -- remain in place, and our stores are open to serve customers as they usually are. We are still hopeful that a contract will be reached soon."
Some 62,000 grocery employees have been working without a contract since March, while in discussions with negotiators for grocery chains Vons, Ralphs, and Albertsons.
Negotiating sessions have been running 12 to 16 hours since the unions issued the 72-hour notice of intent to cancel their current contract on Thursday, said Kendra Doyel, spokeswoman for Ralph's.
Negotiators for UFCW Local 770 say if no progress is made, workers could walk out at midnight.
Clerks at a pair of Ralphs and Vons supermarkets in Santa Monica on Sunday said both chains had not reduced their deliveries of fresh baked goods, produce, milk and meat to the stores. The clerks, who did not want their names publicized, said the fresh deliveries of perishables may indicate that management at the Kroger's and Safeway chains, which own the grocery brands, are not anticipating closing their stores.
"We've heard that, and I think that does mean something,'' said union spokesman Mike Shimpock. "And if they start to move in the negotiations, we intend to stay at the table'' and not call a strike, he said.
But if little progress is being made toward settling disagreements over health benefits, negotiators said they will tell their rank and file to walk off the job.
Meanwhile, Ralphs, Vons and Albertsons employees planned a candlelight vigil for Sunday evening at Pavilions Place in Beverly Hills.
"We will gather and try to show the market corporations their moral obligation to bring this conflict to a fair resolution," said Rick Icaza, president of United Food and Commercial Workers Local 770. "It is the responsibility of profitable corporations like Ralphs, Vons and Albertsons to treat their employees with respect and offer them a fair contract."
Mayor Antonio Villaraigosa, who is headed to Washington, D.C., later this week, told a KNX reporter that he is "absolutely against'' a strike, but also said "I certainly understand the needs of the workers.''
The grocery store chains have been advertising for temporary workers but some have said they will close -- at least temporarily.
"If there is a strike, Ralphs will initially close all of our stores," Doyel said.
"During a strike, it is difficult to create a good shopping experience for our customers and a good working environment for our employees. We will evaluate the situation as it progresses," Doyel said Friday.
Ralphs stores would be gradually reopened on a case-by-case basis after a strike, Doyel said. As many as 100 Albertsons could also close while Vons would stay open, store representatives said Friday.
Shoppers would be left with non-union stores such as Trader Joe's, Fresh & Easy, Hows, Smart & Final, Whole Foods, and Henry's.
On Thursday, the grocery workers' union issued a notice of intent to cancel the current contract extension, clearing the way for a strike.
"We're ready to fight to preserve good jobs," UFCW union leaders said in a statement. "We understand this is a tough economy, but we're willing to stand up for workers everywhere being taken advantage of by profitable corporations."
"We remain hopeful that we will reach a contract. Certainly you never reach an agreement on the picket line, only at the negotiations table, so we're just glad they're still at the table and hope they'll stay there until we complete a deal," Doyel said.
Copyright AP - Associated Press