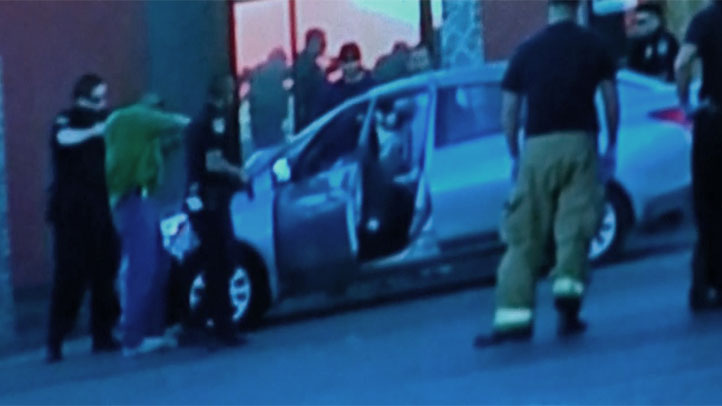 A U.S. marshal was injured when a driver rammed his own vehicle into the marshal's SUV while randomly yelling about law enforcement.
A deputy U.S. marshal was in the parking lot at 3500-block of Mount Acadia Boulevard around 5:30 p.m. Tuesday. The federal agent was loading gear into his unmarked SUV when a man drove up and started yelling at him.
"I don't know if it was ranting. I don't know at all the motivation and his anger directed at the U.S. Marshal," said SDPD Capt. Terry McManus.
At that point, investigators say the deputy U.S. marshal got into his own SUV. Suddenly, the suspect rammed the marshal's vehicle, and not just once.
"The suspect backed away after the first ramming of the vehicle and drove a second time into the driver's side door where the U.S. marshal was seated," McManus said.
Officers say the marshal, fearing for his life, got out of the passenger side of the car. When the suspect moved his hands out of view, the marshal fired several shots hitting the suspect according to investigators.
Meghan Gallardo and her daughter heard multiple gunshots and then started recording the incident on their mobile phone.
"As soon as we heard the gunshots, we came outside and saw a plain clothes guy running around with a gun, and we were like 'What the heck is going on,'" Gallardo said.
"They kept saying put your hands where I can see them, he couldn't, he was hurt, he was injured, he was in the car and he was shaking and trying to keep his hands up, and that's when he started to roll backwards," she said.
For several hours, local businesses and their customers were trapped behind crime scene tape.
Police said the suspect was shot in the torso and was expected to survive his injuries. The deputy U.S. marshal was treated at a nearby hospital for minor injuries.


View Shots Fired in Clairemont in a larger map