The City of Santee has begun taking precautions -- like adding hand washing stations and disinfecting public areas -- to prevent the spread of Hepatitis A amid the worst outbreaks in County history.
Across San Diego County, 17 people have died and 461 cases have been confirmed, according to county officials. Of those cases, there have been 315 hospitalizations.
Eleven of the total cases have been in the City of Santee.
A third of the cases involved people who used illicit drugs and are considered homeless. Of the cases, 25 percent are neither homeless or drug users.

As a preventative measure, the Sheriff's Department Homeless Outreach Team has been reaching out to homeless people in Santee and giving them information about the outbreak. Officials have been giving inoculation shots to those who consent as well.
City officials have added three hand-washing stations in parks adjacent to the San Diego River near homeless encampments.
Additionally, city crews have been disinfecting public areas like restrooms and picnic shelters weekly.
As of September 23, more than 42,000 vaccines have been administered in San Diego County. Close to 700 people were given the vaccine as a precaution after exposure to the virus.
Officials said 22,406 were given by health care systems or pharmacists, but 15,662 vaccines were given by county staff in the field, in jails or detention centers or the county psychiatric hospital.
The city continues to install more public bathrooms. There are now 22 public restroom facilities in downtown San Diego, as listed here.
City crews have also sanitized sidewalks in the downtown area and installed hand-washing stations.
County health officials have also notified 14,000 food facilities in the area as well as agricultural growers and public pools.
Hepatitis A is a liver infection caused by a virus that is highly contagious. The Hepatitis A virus can be contracted by touching objects or eating food that someone with the Hepatitis A infection has handled or by having sex with someone who has an HAV infection.
Some people get the virus but have no symptoms. Signs of infection include fever, fatigue, nausea, loss of appetite, yellowing of the eyes (jaundice), stomach pain, vomiting, dark urine, pale stools, and diarrhea. Adults are more likely to have symptoms than children.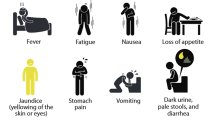 The California Department of Public Health suggests anyone who has been exposed to the virus, and who has not been previously immunized for Hepatitis A, should consider getting vaccinated no later than two weeks after exposure.
For more information, go to the San Diego County Hepatitis A Outbreak website.