The City of San Diego has installed the first round of new bathrooms in the downtown San Diego area to help combat the ongoing hepatitis A outbreak that has resulted in 16 deaths.
In a press release Saturday, city officials announced four new portable restrooms had been installed at the intersection of First Avenue and C Street, near San Diego City Hall. That area has a high concentration of homeless locals.
Those restroom facilities will be maintained at least twice a day, and will be monitored by full-time security, the city said. There's also a hand-washing station near the restrooms, available for use by the homeless population.
The city said the addition of these four restrooms brings the tally to 20 public restroom facilities in downtown San Diego, as listed here. More restrooms will be added in the coming weeks.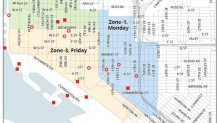 Downtown property owners who have space for portable restrooms can reach out to the city to offer their site. If the location checks out, the city will arrange for the installation, maintenance, and security of each restroom.
On Friday, the city said dozens of bathrooms in areas like downtown San Diego, Balboa Park, Mission Bay, and shoreline and regional parks, will now stay open 24 hours to allow the city's at-risk population access to clean, safe bathrooms.
The bathrooms are part of the city's efforts to help prevent the further spread of hepatitis A. Over the past couple of weeks, city crews have also washed and sanitized sidewalks in the downtown area and installed hand-washing stations.
Free hepatitis A vaccines are being offered at City of San Diego libraries, too, including the Central Library in the heart of downtown, which will host a clinic on Tuesday from 2 p.m. to 5 p.m.
Earlier this week, San Diego Mayor Kevin Faulconer announced the city would build three temporary "bridge to housing" homeless shelters over the next few months to give people access to showers and beds and get them on the path to permanent housing. The facilities will each have 100 or more beds, and provide meals and supportive services.
The shelters will be located in downtown's downtown's East Village and in the Midway District: one in the parking lot on the Father Joe's Villages campus at 14th and Commercial streets, one in a vacant lot on Sports Arena Boulevard, and one on a vacated street at 16th Street and Newton Avenue.
At last count this week, there have been at least 421 cases of hepatitis A reported in San Diego's outbreak. Of those cases, 16 people have died, and 292 have been hospitalized.
On Friday, health officials said patrons of World Famous, a popular oceanfront restaurant in Pacific Beach, may have been exposed to an employee infected with hepatitis A over seven recent dates, including Labor Day.
Hepatitis A is a liver infection caused by a virus that is highly contagious. The Hepatitis A virus can be contracted by touching objects or eating food that someone with the Hepatitis A infection has handled or by having sex with someone who has an HAV infection.
Some people get the virus but have no symptoms. Signs of infection include fever, fatigue, nausea, loss of appetite, yellowing of the eyes (jaundice), stomach pain, vomiting, dark urine, pale stools, and diarrhea. Adults are more likely to have symptoms than children.
The California Department of Public Health suggests anyone who has been exposed to the virus, and who has not been previously immunized for Hepatitis A, should consider getting vaccinated no later than two weeks after exposure.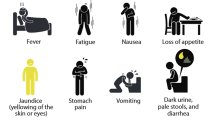 For more information, go to the San Diego County Hepatitis A Outbreak website.