A home that has plagued a Pacific Beach neighborhood with foul odors, trash and rodents for years was taken over this week for cleanup, the San Diego City Attorney's Office said Friday.
The home on Crownhill Road, near Kate Sessions Park, was owned by Shirley Sanders until 2012 -- the year she died and her son and son's friends moved in. That's when junk began to accumulate and debris began to flow into the driveway and yards, Chief Deputy City Attorney Mike Giorgino said.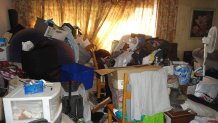 On Tuesday, a judge issued a court order on the home and appointed a receiver to maintain cleanup. The home's occupants were given notice that they must vacate the property within 72 hours so that a receiver could bring the home back to compliance with health and safety standards.
Giorgino said the measure to kick the residents out of the nuisance house was only taken after the property owner failed to comply with more than a dozen voluntary requests.
The home was reported to authorities after a neighbor found 14 rats in his garage and three drowned rats in his swimming pool. San Diego County vector control agents issued the home a citation, Giorgino said.
It was just one of many health and safety code violations the home received from inspectors.
Adam Ith, who lives across the street from the home, said there has been a revolving door of guests, pets and even children over the years.
The City Attorney's Office said concerned neighbors reported the home to Child Protective Services on several occasions because they believed young children were living in the home and were in harm's way. They also felt the home was a threat to their own children.
"I have kids and there's a lot of kids in this neighborhood and you like to know your neighbors and know your kids are safe playing outside," one neighbor told NBC 7.
The property owner will be expected to pay the costs of cleanup, rehabilitation and more, Giorgino said.