The COVID-19 pandemic has forced another major scheduling change. On Monday the California Interscholastic Federation (CIF) announced it's delaying the start of all 2020-2021 sports schedules.
There will now be only two sports seasons, fall and spring, with the winter schedule (which includes sports like basketball and wrestling) being absorbed into the spring season. Fall sports that usually begin in August and September, including football, will now start in December or January at the earliest with a projected playoff schedule in March or April.
"Typically the state playoffs have been longer. They shortened it down a little to give us more flexibility as a section to increase the length of our season and have a full section playoffs," says San Diego Section Commissioner Joe Heinz.
Each of California's 10 sections will be able to make their own master calendars. San Diego Section's goal is to have its full sports plan finished by August 14 and expects to allow teams to begin practicing on December 14 to give them a run-up to the regular season.
"We're looking at a two week period which would allow contests to begin at the end of December or early January," says Heinz. "We would anticipate our first football game being January 8. But, again, the number one priority for us, even in these unprecedented times, was to offer a full season of sport."
San Diego Section is choosing start dates by looking at the preliminary playoff schedule determined by CIF and working backwards. The proposed post-season dates look like this: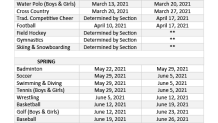 It is important to note that all of this is still subject to change based on guidance from the California Governor's Office and state health officials.
"We are continuously monitoring the directives and guidelines released from the Governor's Office, the California Department of Education, the California Department of Public Health, and local county health departments and agencies as these directives and guidelines are followed by our member schools/school districts with student health and safety at the forefront," said CIF in a statement.
Even if the schedule is approved and sports can proceed in December individual schools and districts have the ability to opt out of competition if they don't believe their student-athletes are going to be safe.
"They could. They absolutely could. That's going to be a district by district, private school by private school decision if they elect to participate," says Heinz.
The new schedule creates several scheduling issues, from facility availability to coaches and referees who usually work across multiple seasons figuring out how to be in two places at once. The players will be faced with a whole different kind of scheduling challenge.
San Diego Section allows for student-athletes to compete in two sports at one time and Commissioner Heinz will encourage coaches to work together on practice schedules to allow that.
Another concern is college recruiting, especially for fall sports athletes. Several states have not announced a change in sports schedules so field hockey or football players in California will be behind many of their peers in the race for scholarships. To help that, San Diego Section is suspending Rule 600, which prohibited athletes from playing for any kind of club or travel team during their season of sport.
"A full suspension will allow kids during their season of sport to participate in club and travel activities, play in high-profile tournaments that may be out of state, those types of things," says Heinz. "Hopefully we'll serve two purposes. One, to give the kids and the parents the exposure they feel that club and travel programs provide for them ... but also not to force kids to compete between interscholastic athletics or club and travel programs."
More than anything else, health and safety is the priority for Commissioner Heinz and the CIF. If they have to change anything, as much as it hurts to take athletics away, they will be prepared to do so. They just hope it doesn't come down to that.