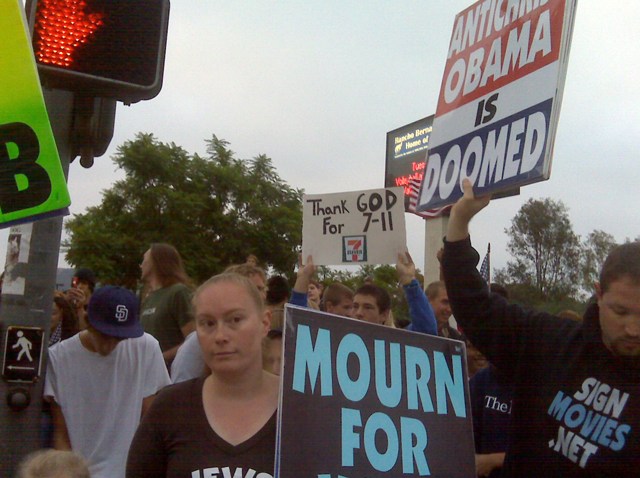 A controversial church group staging protests throughout San Diego was back in the center of controversy again on Monday.

The Westboro Baptist Church, which is located in Kansas, and its protesters are known for spreading anti-gay, anti-Semitic and anti-military messages. On Monday morning, they were out early at Rancho Bernardo High School.

Over the weekend, the Westboro group staged more than two dozen similar protests across the county, including outside The Rock Church, one of San Diego's biggest houses of worship, in Point Loma. Several more were planned for Monday.

Officials with The Rock Church made it clear on Sunday that they don't agree with the protesters and that they chose to ignore the group. However, a group made up of other churches and community groups staged a small counterprotest.

"We've been asked to join with other Christians to have a moment of prayer on behalf of these people so that they can feel the love of Jesus Christ in their lives and be able to see the love that others have for all of the savior's children," said counterprotester Kathy Marler.

"According to Scripture, we accept anybody who wants to walk int the door," said Ricky Page, the co-paster of The Rock Church. "As far as we're concerned, that's why we exist: to really reach San Diego, all walks of life in San Diego."

Other protests are also planned by the Westboro group in La Jolla, Carlsbad and outside the San Diego Jewish Academy.

So far, the protests have been generally peaceful.