Fourteen years after the disappearance and presumed killing of a 14-year-old girl in San Diego's South Bay, police are reigniting their search for answers in the mysterious cold case.
On Thursday, the Chula Vista Police Department (CVPD) Crimes of Violence Unit announced detectives, with help from the FBI, were "revisiting" the open and unsolved homicide case of Gabriela "Gaby" Gonzales.
The teenager, believed to have been a victim of foul play, disappeared on April 5, 2002. According to the CVPD, she is presumed to have been murdered, her body likely buried in the Otay River Bottom at Otay Valley Regional Park.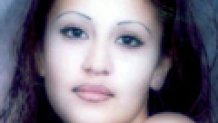 The CVPD said Thursday that detectives had recently developed new leads that provide hope that Gonzales' body will be found and that her killer or killers will be identified and arrested. With this new information, the CVPD said the FBI has joined the investigation with a mission to find the teen's remains and finally bring resolve to her family.
To that end, investigators are making a major push Thursday on this cold case.
"Actually, not knowing in a sense, it closes a closet in your heart, having hope. But the reality is, it's been a long time and we've suffered a lot," said Gonzales' brother Eduardo Fernandez.
CVPD detectives and FBI agents will pass out fliers about Gonzales' case in the South Bay community in hopes that someone who knows something will come forward.
CVPD Lt. Fritz Reber said that with the passing of so much time, key witnesses may have a change of heart and finally come forward.
"Their life may be in a different spot now, they may have kids of their own and different priorities," Reber explained. "Anyone who was reluctant to come out and talk before, please do now."
At the same time, Chula Vista Public Works personnel plan to clear the brush in the Otay River Valley. This will allow Chula Vista and the FBI's Evidence Response Team (ERT) to access areas of the Otay River Valley that could hold clues and evidence of the teenager's murder.
[G] San Diego's Unsolved Cold Cases
Reber said detectives have obtained information that led them to the Otay River Valley.
"We do think we will find evidence of her disappearance here," he told NBC 7.
Over the years, police have received more than 400 tips on the case, Reber said. In 2003, witness interviews and the investigation led detectives to classify Gonzales' case as a homicide. Since then, police have been searching for the teen's killer.
Reber said that on the day Gonzales vanished, her mother had gone to the grocery store. When the mother returned home, she found a note from Gonzales saying she had gone out.
That was the last time Gonzales' family ever heard from her.
"No one knew where she went," said her mother, Leticia Gonzales in spanish. "I never stopped looking for her. I could never stop searching for my daughter."
On the note, Gonzales had written that she loved her mom along with the name of her boyfriend, Juan Jose Vera. He was Gonzales' boyfriend at the time, and a documented gang member who had served time for a series of bank robberies.
According to Reber, the teen had a good relationship with her family and was never considered a runaway. Gonzales disappearance and the open-ended case has been devastating for the teenager's family.
Reber said Gonzales' cold case has always remained among the most pressing for the department and detectives vow to work tirelessly to finally solve it. He said investigators have invested their heart and soul into the case.
"I will keep waiting until her body is found," said Gonzales' mother.
Anyone with information on the teenager's disappearance or killing can call the CVPD's Crimes of Violence detectives at (619) 691-5075 or the department's non-emergency line at (619) 691-5151. Other numbers to call include the departments anonymous tip line at (619) 422-TIPS or San Diego Crime Stoppers at (888) 580-8477.
Crime Stoppers is offering a $1,000 reward for information leading to an arrest and conviction in this case, and the Chula Vista Police Foundation is matching this, offering another $1,000 reward.
If alive today, Gonzales would've been 29 years old.