Police officers and residents are rallying to support a two-year-old boy with Down syndrome who had his Easter eggs stolen from his front lawn in an act of petty theft caught on surveillance video.
Chula Vista residents Janet and Michael Ford say they were excited to celebrate Easter with their toddler, Gabriel, on Sunday after they learned their neighbors had put Easter eggs on their lawn for the little boy to find.
Gabriel has Down syndrome and was born with his ring and middle fingers bound as one. His parents say he recently underwent surgery to have his fingers separated. As part of his physical therapy, Gabriel had been practicing picking up eggs, so the Fords say their son was really looking forward to partaking in an egg hunt on Easter - the first time the tot has really been old enough to celebrate the holiday.
Janet and Michael planned to help Gabriel hunt for the eggs on their lawn after church on Sunday, but while the family was at church, a group helped themselves to the eggs.
A surveillance camera at the family's home captured video of a couple taking a few eggs from the family's yard and then leaving. The footage then shows the couple coming back, this time accompanied by two kids, and taking the rest of the eggs.
But the theft didn't stop there.
The surveillance video shows the couple coming back to the Fords' yard a third time at night and cutting Easter eggs left on some trees.
Janet said the unfortunate incident was very disappointing.

However, there is a silver lining.
In an overwhelming response, the Fords say Chula Vista police officers, firefighters and community members have rallied in support of little Gabriel.
On Monday night, an emergency dispatcher and a Chula Vista Police Department (CVPD) officer who is also a parent of a special needs child visited the family's home and decorated their yard with bright Easter eggs just for Gabriel.
The dispatcher and officer also left a big box of sidewalk chalk for the boy and a note that read: "Happy Easter from your neighborhood Easter bunnies. 28 eggs total."
Chula Vista firefighters also dropped off a special Easter basket for Gabriel.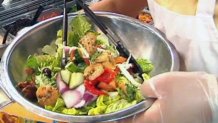 This Friday, the community plans to come together to host a big Easter egg hunt for all the children in the neighborhood, Gabriel included.
The community is asking people to contribute eggs for the event, and to bring a toy to donate to Rady Children's Hospital, since the hospital has been such a big part of Gabriel's life.
"It's turned into so many families wanting to do it. We have had people from other states contacting us," Janet told NBC 7.

According to CVPD Lt. Fritz Reber, police know the identities of the people who stole the eggs, but have yet to speak with the group. The investigation is ongoing, and the adult culprits could be charged with petty theft in the incident, according to police.