An off-duty deputy injured in a shooting when he jumped in to help his younger brother got a visit from a special friend Thursday.
Chopper the Biker Dog spent some time with San Diego County Sheriff's Deputy Jason Philpot, who was shot three times in the shoulder in the Gaslamp area of Downtown San Diego early Monday morning.
Philpot jumped in to help when one suspect pulled out a gun at his younger brother. The brothers, along with several of law enforcement officers, were leaving a Metallica concert when the incident occurred.
According to Chopper's Facebook page, he arrived to visit Philpot in style, riding on his little Harley. He spent some time with Philpot and his daughter at their home.
SDSO officials said Philpot is in good spirits and recovering well.
Philpot is an 11-year veteran of the San Diego County Sherrif's Department (SDSO) and currently serves in the Emergency Services Division, which includes the SWAT team, Search and Rescue and the Helicopter Squad.

Meanwhile, the search continued for suspect Ray Pitoau, wanted in connection to the shooting.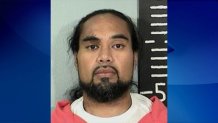 NBC 7 learned Thursday, this is not the first time Pitoau has had problems with the law.
He has a 20-year criminal history and has been in prison at least twice since 1998, according to court records.
Wednesday evening, Pitoau was believed to the suspect holed up inside a home in Spring Valley in a five-hour long standoff.
San Diego police (SDPD) officers used flash bangs and a K-9 team to try and bring Pitoau out of the home. A robot was sent into the home next. After that, when SWAT officers entered the home, they found no one inside.

"If [Pitoau] was armed during that shooting, there are chances that he's still armed," said Officer Ernesto Servin with SDPD. "We want to make sure that if someone sees him, that they don't approach him, they call the police immediately, they can call 911 if they do happen to see him."

San Diego police said they are collaborating with other law enforcement agencies from San Diego County and other counties in their search for Pitoau.