A 12-year-old girl walking in El Cajon Tuesday morning was struck and seriously injured by a hit-and-run driver -- a suspect who ran several red lights while fleeing the scene of the crash, police confirmed.

The hit-and-run happened around 8:20 a.m. in the 500 block of East Chase Avenue, east of Avocado Avenue, near Chase Elementary School.
The El Cajon Police Department said the girl was on her way to school, walking with friends near a Starbucks, when she was hit by a driver in a silver or gray two-door sedan. Police said the girl was mid-block on Chase Avenue, crossing the street outside the crosswalk, when the car approached.
The impact flung the girl onto a sidewalk, her backpack thrown on a patch of grass near the roadway.
Instead of stopping to help the girl, the driver in the sedan sped off. Some witnesses to the hit-and-run tried to follow the driver, who then ran through several red lights to escape.
The driver was last seen on Anza Street.
A surveillance camera in the area captured a grainy image of the suspect's hit-and-run vehicle near the crash site, police said. Investigators released that photo of the car in hopes of tracking down the driver.
Police said the car appears to be a silver 2016 2-door Honda Accord, or a similar car.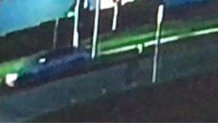 The El Cajon Police Department said the child was rushed to Rady Children's Hospital with serious injuries. Police said the girl, who is believed to be about 12 years old, was conscious and talking en route to the hospital. She is expected to survive, police said.
The girl's friends were not hurt.
No further details were immediately released. As of 7 p.m. Tuesday, the hit-and-run driver remained at large.
The incident is under investigation. Anyone with information on the hit-and-run driver or the vehicle can call the El Cajon Police Department Traffic Division at (619) 441-1632 or the Communications Center at (619) 579-3311.
NBC 7 spoke with the girl's mother, Asiyah Shamsudeen, who identified the hit-and-run victim as Sirad Shamsudeen. She is affectionately known to her family by the nickname, "Sparkle."
Asiyah said Sirad suffered a bruised lung and liver and a fractured pelvis. She underwent surgery following the collision, and her mother said she's expected to recover.
Asiyah said she's very frustrated by the hit-and-run and doesn't understand how anyone could leave an injured child behind on the street.
"I think this incident is unfortunate, that it happened to my daughter – but it could happen to anyone. And to hit a kid and leave like that, I don't know what type of heart that person has, or what type of morals they have, but I hope if you're seeing this, you'll turn yourself in," Asiyah said.
"Turn yourself in. You did something wrong. You harmed someone," she added. "Do the right thing and let us know who you are."
Sirad's aunt, Dhameera McClarkin, also had a message for the driver.
"Just turn yourself in. You hit a child and you had no regard for what could have happened to her," said McClarkin. "Just please come forward and turn yourself in."
Asiyah said having her daughter hurt in this way is "a horrible feeling for any mom." The hardest part for her was waiting to see if Sirad would be alright.
She was grateful to learn her daughter's injuries weren't critical.
"As soon as she saw me, she said, 'Mom, I love you.' And I said, 'I love you even more, and everything is going to be okay,'" she recounted, calling her pre-teen "very brave."
Asiyah and McClarkin, along with the rest of Sirad's family, are still trying to figure out what prompted the driver to take off.
"We don't know if it was fear. I have no idea. We don't know what was going through their minds," she said. "It's just something, moralistically, we couldn't even do."