A 6-year-old boy died early on Wednesday after a two-car wreck in the Kensington neighborhood of San Diego
Just before 8 a.m., the San Diego Fire Department responded to the intersection of Adams Avenue and Biona Drive after receiving a call about a crash involving two vehicles. First responders found a white Jeep SUV on its side, resting on a fire hydrant with a child in a booster seat trapped inside, the SDFD said. The fire hydrant had punched through the rear window of the SUV where the child was sitting.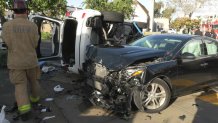 Around 10:30 a.m., San Diego Police sergeant Joe Underwood told NBC 7 that the crash occurred when traffic was backed up westbound on Adams Avenue, and the Jeep, which was heading south on Biona, tried to go around the traffic and was T-boned by a black Hyundai Sonata, which was headed east on Adams and was driven by a 20-year-old woman.
After the crash, the Hyundai had come to rest in contact with the Jeep, its front end heavily damaged. A Star Wars backpack wound up in the street.
The child was freed in fewer than 30 minutes and taken to Children's Hospital with unknown injuries, according to the department, where he died of his injuries.
Neither the 45-year-old man driving the Jeep nor a second child, an 8-year-old girl, was seriously injured. The woman driving the Hyundai suffered some sort of back injury. It's not clear whether she was hospitalized.
Kensington resident Roberta O'Connor was at a gym across the street when the two cars collided. As soon as she heard the collision, she ran outside to help.
"I helped get one of the drivers out of one car and then helped her cross the street," she said. "A car right behind helped disassemble parts of the car, tried to see how they could help to take other people out of the car."
O'Connor said the child's mother arrived at the scene of the crash and was distraught.
"She was going through the aftershock of the scene and it was very, very sad," O'Connor said. "Mom was, like devastated. She left her car in the middle of the street, she really wanted to be with her boy.
"It was a shock. It was a shock because it was a normal Wednesday morning. I have kids. Taking your kids to school and all of the sudden ..." O'Connor added.
By late afternoon, a small memorial had grown on the sidewalk near the crash site.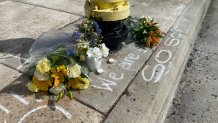 Investigators do not believe drug or alcohol impairment was a factor in the incident.
Anybody with information about the case is being urged to call the San Diego Police Department at 619-531-2000. Tips can also be called in anonymously to Crime Stoppers at 888-580-8477.
Copyright CNS - City News Service