It's not just the lineup that fans look forward to on Opening Day at Petco Park, but also the food, and this year there are a lot of tasty additions.
From Mexican street corn, and fish tacos to hot links, NBC 7 got a preview of all the new food offerings. Check them out below:
Mexican Street Corn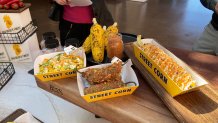 Mexican Street Corn is coming to Petco Park. They will offer an "authentic Elote on or off the cob."
It comes in two styles:
Elote Classico

Grilled corn served with Fuego Sauce, Lime Crema, Cotija Cheese, Tajin and Cilantro.

Elote Especial

Grilled corn served Classico with Tajin Pop Rocks and a Chicharron-crusted Carnitas Stuffed Jalapeno Popper.
They will also offer grilled corn served "Classico" with Tajin Pop Rocks and a Chicharron-crusted Carnitas stuffed jalapeño popper.
Where to find it at the ballpark: Find the Mexican street corn in Section 100 or at The Draft by Ballast Point in Section 105.
Kona Big Wave Patio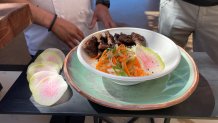 Thanks to a newly rebranded space located on the Terrance Level, Kona Brewing Co. will be having its own wave patio that will feature Kona's signature lineup of beers along with some food options including:
Hawaiian Short Rib Bowl

It is marinated Beed Short Rib served with steamed rice, green onions, pickled Daikon, carrot, furikake, and big wave sauce.
Where to find it at the ballpark: Get a taste of Hawaii in section 227.
Alpine Beer Company
Alpine Beer Company is taking over a rebranded space on the Upper Level that is open to Season Ticket Members for Happy Hour and the public is welcomed pre or post-game.
Alpine will feature a rotating selection of crafts on tap from the Alpine/Green Flash family along with a new smoked sausage concept in partnership with Grand Ole BBQ they will offer the following:
Smoked Hot Link
Choripan Sausage
Where to find it at the ballpark: Get your hot links in Section 311.
The Draft By Ballast Point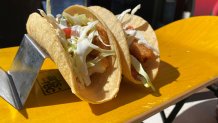 The Draft By Ballast Point will have an updated menu featuring new items and fresh spins on some of the park's most popular items like:
Baja Fish Taco

Beer Battered Fish served with shredded cabbage, pico de gallo, chipotle sauce.

Hot Hen Fries

Seasoned fries topped with honey agave-dipped breaded chicken, hot hen spice, Fresno chili coleslaw, sliced bread & butter pickle, fuego hot sauce.
Where to find it at the ballpark: These taco offerings will be available in Section 105.
Jack in the Box
Yes, Jack has been part of the San Diego Padres (off-and-on) for a long time but his food offerings are finally coming to the ballpark -- no drive-thru necessary.
To find the Jack in the Box stand, head towards the giant Jack head in the right field. There, you will find the San Diego-based fast-food chain's chicken strips, curly fries, mini churros and their new Loaded Tiny Tacos topped with cheese sauce, shredded lettuce and taco sauce.
While those offerings you can find at any Jack in the Box location, something you won't find in stores is the signature Purple Haze Cocktail.
Where to find it at the ballpark: Find these munchies near Section 323.
More Local Offerings:
Petco Park already boasts an eclectic range of cuisines through its partnership with local San Diego restaurants. Here are some hits that will be returning in 2023.
San Diego's Finest Hot Chicken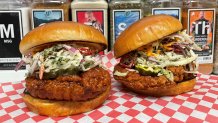 San Diego's Finest Chicken still has the exclusive hot chicken sandwich called "The Hot Hen" in the ballpark.
This version has the traditional seasoned crispy chicken but is topped with a slaw made from Fresno chilis and "fuego sauce." Safe to say this one will be HOT. All that will be served up on a brioche bun with pickles.
Where to find it at the ballpark: Find the Hot Hen near Section 316 or at The Draft by Ballast Point in Section 207.
---
Negihama Sushi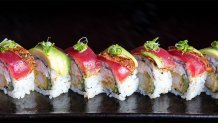 While Sushi isn't the first thing that comes to mind when you think "ballpark food," Petco Park needed to embrace their San Diego roots with some seafood. For that, they've brought in Negihama Sushi, which will offer grab-and-go sushi options.
Where to find it at the ballpark: The sushi offerings will be available in the Mercado near Section 104.
It wouldn't be San Diego without tacos (and margaritas!), and Puesto is here to fill that role. The taco restaurant serves up some of its signature tacos, a chicken al pastor burrito and birria nachos. Don't forget to grab one of their Puesto Perfect Margarita; in frozen or classic form, you can't go wrong. Puesto is expanding and will have stands on the ground level at the first and third base lines.
When you're craving a mouthwatering burger, there's only one San Diego staple to turn to, and that's Hodad's. The burger joint, which has been part of San Diego history since 1969, brings its classic bacon cheeseburger to the park. We suggest pairing it with their signature onion rings. Find Hodad's in several locations: near Section 104; Section 131; Section 300; Section 316; Section 325.
Seaside Market will be serving up its famous Cardiff Crack Tri-Trip on top of a ballpark classic -- nachos! Find these near Section 308, 322 and 327.
San Diego's Board & Brew is returning this season with some of their beloved sammys. (Don't forget the secret sauce)! Find Board & Brews' subs near Section 205.
Seafood and San Diego just go together. Grab some grilled Fish Tacos from Blue Water Seafood Market & Grill at The Still, Cutwater Spirits' in-park bar. Pro-tip: Get these fish tacos on Taco Tuesday for just $2.50. Find The Still near the 3rd base line.
What Else is New?
Padres X Budweiser
Budweiser has designed and will debut new limited-edition team cans just in time for Opening Day to represent the spirit and camaraderie of baseball's return.
"Baseball and the culture it created is a true celebration of the American spirit," said Vice President of Budweiser Ricardo Marques. "This year, we wanted to leverage our long-standing partnership with MLB to raise a toast to the fans by giving them a piece of their hometown to enjoy right in the palm of their hand with our MLB designed team cans."
The brewer chose 14 hometown cities to be featured on the cans -- and the San Diego Padres are one of them.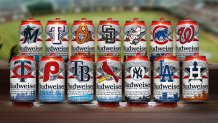 LISTEN: With NBC 7 San Diego's Darnay Tripp and Derek Togerson behind the mic, On Friar will cover all things San Diego Padres. Interviews, analysis, behind-the-scenes...the ups, downs, and everything in between. Tap here to find On Friar wherever you listen to podcasts.