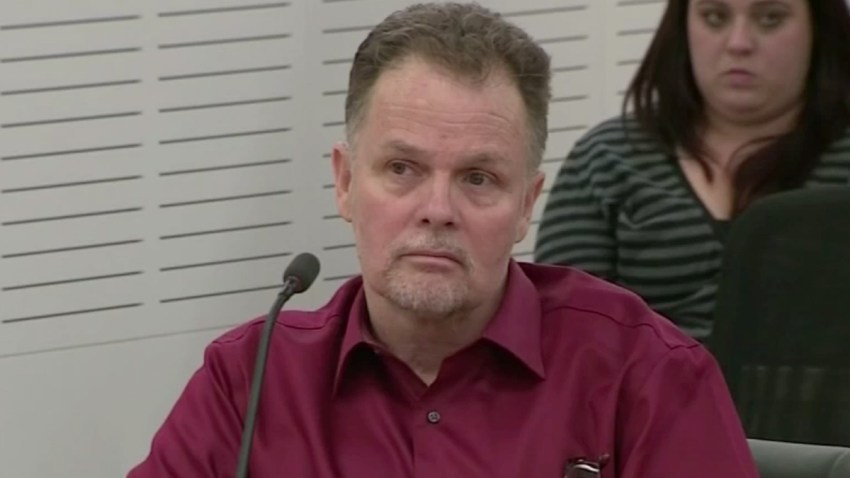 The man accused of killing a family of four from Fallbrook, Calif. – including two young children – has chosen to represent himself in court, again, as legal proceedings stall once more on a murder trial six years in the making
Charles Merritt is accused of bludgeoning to death his business partner Joseph McStay, as well as McStay's wife, Summer, and the couple's sons, 4-year-old Gianni and 3-year-old Joseph Jr.
As prosecutors work to get Merritt to trial in the quadruple-murder, legal proceedings have repeatedly been halted for various reasons.
Last summer, Merritt's trial was set for Aug. 10, 2015.
At the time, he was being represented by Southern California-based defense attorney Jimmy Mettias, who said he expected prosecutors to allege Merritt used a sledgehammer to kill the McStays after a business dispute with Joseph, and covered his tracks by painting over evidence at the family's home and burying his victims in the desert.
Mettias said no evidence on the sledgehammer could be traced to Merritt. The attorney also said Merritt had an alibi that would be revealed at trial.
Six months later, Merritt has now fired Mettias and, at a hearing on Tuesday, Merritt elected to represent himself, according to officials with the Superior Court of California, County of San Bernardino.
This isn't the first time Merritt has opted to act as his own attorney.
In late January 2015, he requested to represent himself, claiming he had six to eight months to live due to congestive heart failure. He also said he could not afford legal representation.
At this point, Merritt's next court appearance is a disposition hearing slated for Feb. 11 at the San Bernardino Justice Center courthouse. The purpose of that hearing is to determine if Merritt is prepared to proceed to trial.
The McStay family vanished from their home north of San Diego County almost six years ago to the day – Feb. 4, 2010. Their sudden disappearance captured international attention and baffled investigators who said there were no signs of a struggle inside the family's home. Food was left on the kitchen counters and the family's dogs were left unfed.
Four days later, the McStay family's 1996 Isuzu Trooper was found in a parking lot near the U.S.-Mexico border in San Ysidro in south San Diego County.
From there, speculation unfolded that the family was in Mexico after the family's computer records showed searches for travel to Mexico and investigators sifted through a much-talked-about, grainy surveillance video of what appeared to be a family of four crossing the border from San Diego into Mexico.
According to search warrants unsealed last summer, in the McStay family's abandoned car, detectives found Merritt's DNA on the steering wheel, shifter, radio and A/C control panel.
When detectives interviewed Merritt following the McStay family's mysterious disappearance, investigators noticed a "fresh injury to his hand," which he claimed was from cutting his hand on sheet metal.
The warrants also noted: "Merritt made several statements about Joseph in the past tense, including "Joseph was," leading investigators to believe Merritt knew Joseph and the family were deceased."
On Nov. 11, 2013 – nearly four years after the family's disappearance – the skeletal remains of the McStay family were uncovered in shallow graves in a very remote desert location in Victorville, Calif., about 100 miles away from their home.
Joseph's body was found covered in a blanket, an extension cord wrapped around his neck.
The partial skull of one of the children was bleached white due to exposure to the elements, as the remains had been there for an undetermined amount of time. A sledgehammer was found in one of the graves, investigators said.
Search warrants noted the cause of death for the McStay family was blunt force trauma, and one of the murder weapons was likely the sledgehammer found at the gravesite in the Southern California desert.
In November 2014, Merritt was arrested in connection with the murders. He has pleaded not guilty in the slayings.
Search warrants state detectives obtained phone records for Merritt in order to trace where he was during the time of the McStay family's disappearance.
"Merritt was in a position to access the cellular telephone tower northeast of the McStay family gravesite on Feb. 6, 2010 – two days after the family was last seen alive. Merritt made six phone calls in the area between 10:46 a.m. and 1:30 p.m. that day," the documents said.
The warrants also stated it's "probably" there was more than one suspect involved in the murders "since an entire family of four was murdered and transported to the desert."
For a timeline of McStay family murder mystery, click here.