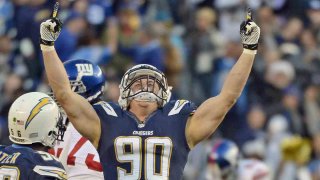 Update on Sept. 16, 2021: In Sept. 2016, a San Diego County Superior Court judge granted a petition to expunge a misdemeanor charge of battery from Thomas Keiser's record.
San Diego Chargers linebacker Thomas Keiser was arrested after an altercation in the city's Gaslamp Quarter Sunday night.
Keiser, 24, was arrested for misdemeanor battery, according to the San Diego Police Department. Police said Keiser was not arrested for any alcohol-related offenses.
The alleged incident happened at the restaurant "barleymash" on Sunday, the same day the Chargers beat the Kansas City Chiefs in overtime and clinched a spot in the AFC playoffs.
On Tuesday, SDPD Officer James Johnson confirmed that Keiser had gotten into a fight with a barleymash employee. Johnson said the altercation had nothing to do with Keiser being a member of the Chargers or anything team-related.
According to police, Keiser was allegedly the aggressor in the fight.
On Tuesday, the owners of barleymash made a statement online. They described the incident as "an unprovoked, vicious assault by Mr. Keiser on a barleymash employee."
The statement also said, in part:
Mr. Keiser and his party departed the restaurant after one of the individuals in his group was asked by the security staff to leave. Mr. Keiser subsequently re-entered the restaurant. He inconspicuously followed an employee to an area outside the restaurant's office, where he sat and waited for several minutes. When they employee emerged from the office, Mr. Keiser ambushed and brutally assaulted him.
Police said Keiser was placed under citizen's arrest at the restaurant and handcuffed by bar security. He bailed out of jail for $8,000.
The victim refused medical treatment at the scene, according to police.
On Monday night, the Chargers released this brief statement to NBC 7:
We're aware of the issue involving Thomas. We'll continue to monitor the situation and let the legal process run its course.
Keiser graduated from Stanford in 2011 and went undrafted before being picked up by the Carolina Panthers, where he spent most of his career. Keiser was signed to the Chargers in May and started the season on the practice squad before being promoted to the active roster in October. He has 4.5 sacks on the season.
Keiser is expected to play Sunday against the Bengals in Cincinnati.