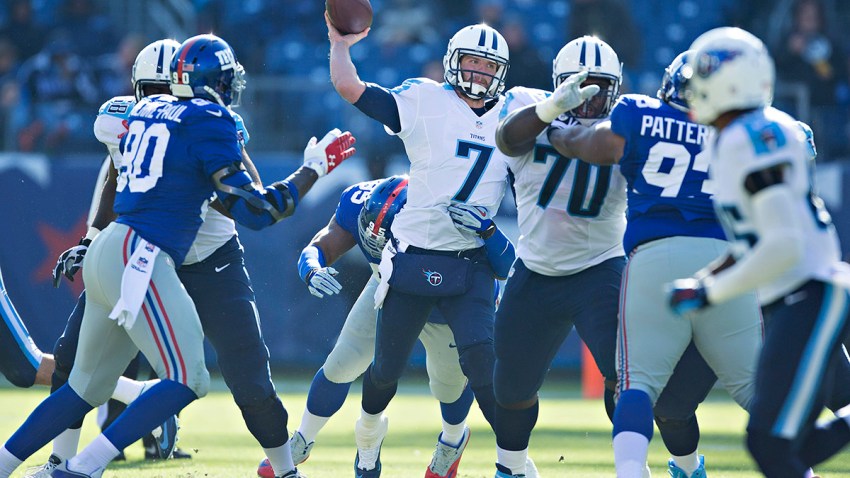 The Bolts added Zach Mettenberger off waivers Tuesday to help back up Philip Rivers, a day after the 6' 5" quarterback parted ways with the Tennessee Titans.
The move reunites the 24-year-old Mettenberger with his former head coach in Tennessee, Ken Whisenhunt, who is now in his second stint as the Bolts' offensive coordinator.
Mettenberger was originally picked by the Titans out of LSU in the sixth round of the 2014 draft.
He started 10 games with Tennessee but went 0-10 at the helm.
Before that, Mettenberger was a backup to former Titans starter Jake Locker and last season again served as the #2 option behind rookie Marcus Mariota.
In his NFL career, Mettenberger has thrown 12 career touchdowns and 14 interceptions with a quarterback rating of 66.7.
Whisenhunt clearly sees attributes that he likes in the young thrower and feels he can still help make him a better NFL player.
Mettenberger fits the Chargers profile for a quarterback – a tall, strong armed athlete that prefers to stay in the pocket and sling the ball around the field.
If you're thinking Mettenberger could be a possible replacement for Philip Rivers, you shouldn't be very concerned.
Mettenberger is more of a developmental prospect who can benefit from learning from a veteran like Rivers.
Rivers signed a 4-year, $84 million contract extension last year and has stated that he hopes to still be the starting quarterback when the Chargers open up their next stadium.
Rivers has not missed a regular season start with San Diego (a franchise-record 160 starts in a row) since taking over under center in 2006. He has also started 9 playoff games for the Bolts.
The Chargers now have 4 quarterbacks on the roster: Rivers, Mettenberger, Kellen Clemens, and undrafted rookie Mike Bercovici from Arizona State.