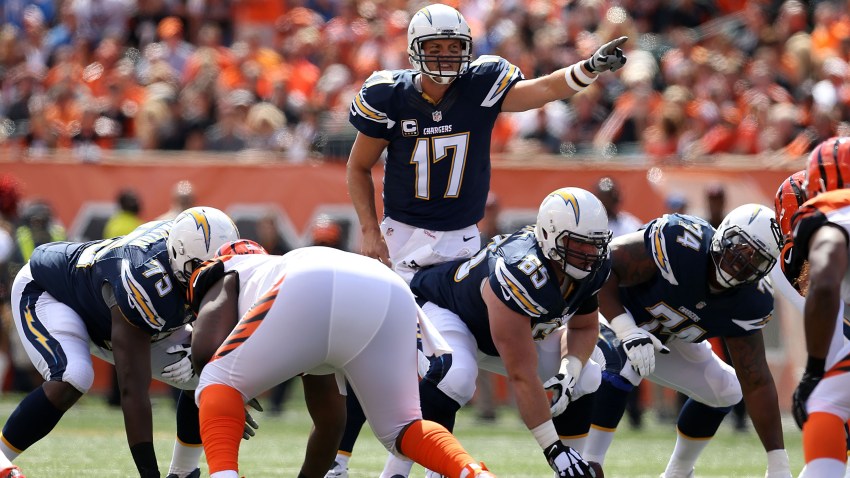 It's happening again.
The Chargers latest injury report for Sunday's game in Minnesota has nine players on it and four of them are offensive linemen. What's even more alarming is all four of them are guys who could potentially play right guard.
We know Johnnie Troutman is out with a broken forearm and D.J. Fluker is recovering from an ankle injury. Now Chris Hairston, who filled in for Fluker on Sunday in Cincinnati, is on the injury report with a knee issue. So is Chris Watt, the center who would move over to play guard in a pinch, with a groin problem.
That leaves Kenny Wiggins and Trevor Robinson as the only as the only other linemen available. If Watt can't go Robinson takes over as center. If Hairston is not right Wiggins would move in to the starting lineup. The problem there is the Chargers don't have any other linemen healthy enough to play so they'd have to sign at least one more guy, either Tyreek Burwell from the practice squad or a free agent from outside the organization.
The other piece of alarming injury news is tight end Ladarius Green showing signs of a concussion again. Green was concussed before the season-opener against Detroit but cleared the NFL-mandated protocol and played well. On Tuesday of this week Green complained of concussion-like symptoms again, even though he was not reported as having been concussed in the game against the Bengals in Cincinnati.
Green has been cleared and practiced in a limited role on Wednesday, but his situation is alarming because a player can have a concussion and not show outward symptoms. The fact Green is feeling symptoms consistent with a concussion could be nothing; or it could be extremely dangerous. The Chargers might have a very difficult decision to make.
"The doctors have a job to do," said head coach Mike McCoy, "They'll let us know what's in the best interest of the player and we'll make that decision accordingly. We're going to lean heavily on those people who give us expert advice in what to do in this situation."
If Green is held out against the Vikings the Chargers will be down to two tight ends in John Phillips and David Johnson.