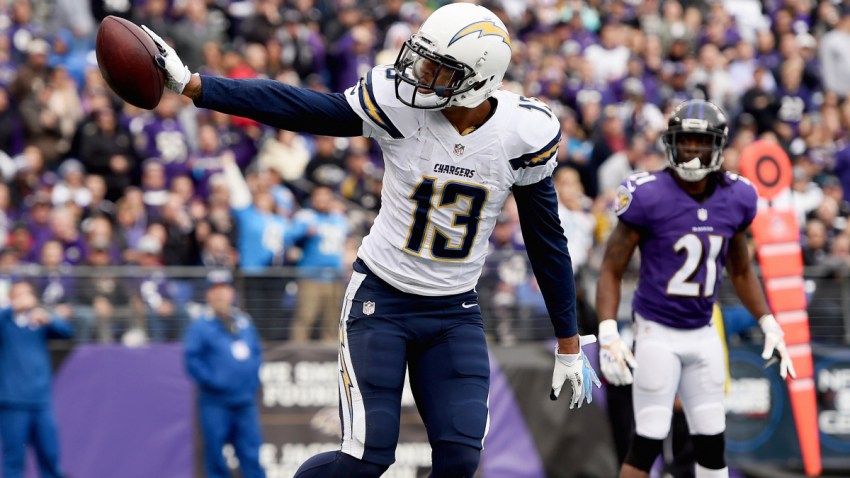 Chargers wide receiver Keenan Allen's potentially history-making season is over.
Allen is headed to the Injured Reserve with a lacerated kidney and will not play again in 2015. The good news is he's expected to make a full recovery and be ready to go for the 2016 season, the last one under his rookie contract.
The third-year wideout suffered the injury on Sunday in Baltimore. Allen made a fantastic leaping catch in the corner of the end zone for a touchdown, but landed awkwardly with a defender falling on top of him.
Allen was on a pace to challenge the NFL's single-season receptions record. He'll finish the year with 67 catches for 725 yards and four touchdowns in just eight games.
Allen bounced back from a sub-par sophomore season by rededicating himself and showing great maturity over the offseason. He put in more work than he ever had before and was playing at an All-Pro level.
So who will the Bolts promote to Allen's leading wideout position? Dontrelle Inman is the logical choice to move in to the starting lineup with Malcom Floyd and Stevie Johnson.
Allen will be joined on IR by running back Branden Oliver and outside linebacker Tourek Williams. Oliver suffered a toe injury in the loss to the Ravens. Williams broke his foot in the preseason opener against the Cowboys and had not been able to practice until last week.
The Bolts added wide receiver Javontee Herndon, cornerback Greg Ducre and center J.D. Walton to the active roster.