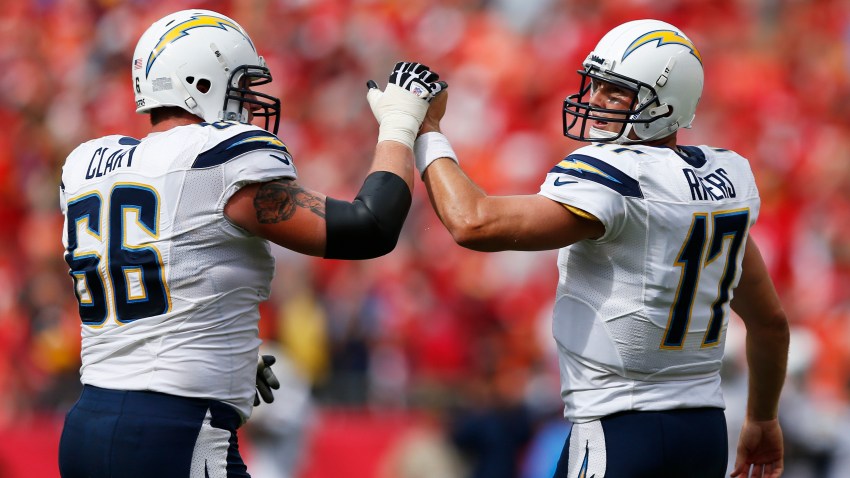 From about 2008 through 2013, Jeromey Clary was the subject of a whole lot of ire from Chargers fans. As I said before the 2014 season on the BoltBlitz LIVE radio show, I have never understood it.
All Jeromey Clary ever did was play as hard as he can, even when injured, and infuse the Chargers' offensive line with a toughness and attitude it sorely lacked in 2014. Plus, he did it with dignity, always being gracious with his time for fans or the media.
If the worst thing you can say about a guy is he was not a Hall of Fame right tackle, which is probably the worst thing you can say about number 66, you're talking about a guy I'll take on my team any day of the week and twice on Sunday.
Clary announced his retirement from the NFL on Thursday. He was a 6th-round Draft pick in 2006 and started 93 games over the next eight years, earning the reputation as one of the toughest guys in the NFL (which might explain why he got along with quarterback Philip Rivers so well).
"San Diego is a great place to play, and I couldn't have asked for a better organization to play for," said Clary in a statement. "All the coaches and all the players I was with, and the friendships I've built ... I'm honored to have played for an organization like this. It means the world to me."
Clary was the starting right tackle from the end of the 2007 season through 2012. Then the Chargers selected right tackle D.J. Fluker in the first round of the Draft. Instead of pouting or demanding a trade, Clary went to the coaching staff and asked how he could help. Move to right guard? Sure, when do we start?
Clary played well as a guard and was instrumental in the development of Fluker, who played well in his rookie year but took a step back as a sophomore. Not having Clary (who tried to play even though he needed two hip surgeries) next to him on game day was a major factor.
The Bolts are talking about moving D.J. over to guard now. If he has any questions, I have no doubt the guy who moved for him would have no trouble sharing a few pointers.