The U.S. Border Patrol released a report Tuesday that suggests employees were using less physical force than last year however critics say the agency didn't include all uses of force as defined by the Department of Justice.
U.S. Customs and Border Protection reported 768 incidents in which authorities used force during the fiscal year that ended Sept. 30. The number of incidents was down 26 percent from the previous year and down 37 percent from 2013, according to the Associated Press.
The agency that's responsible for policing the U.S.-Mexico border south of San Diego said its officers were assaulted 390 times in the same period, up 5 percent from the previous year.
Mitra Ebodalahi, Border Litigation Project attorney, ACLU of San Diego & Imperial Counties, said the public release of data was encouraging but did not paint the entire picture because of incomplete statistics.
The report includes physical restraint, use of an alternative device or application of lethal force according to the ACLU.
"CBP must expand public reporting to include data on stops and searches," Ebodalahi said in a written statement. "Without this data, border communities have no way of assessing CBP's record on racial profiling, excessive force, and lack of accountability."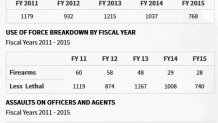 Under current policy, agents can use deadly force if they have a reasonable belief that their lives or the lives of others are in danger.
CBP said it has revamped training, launched new case review practices and focused on being more transparent.
On a typical day, the CBP said its employees process more than 678,000 incoming travelers by land.
One of its busiest ports of entries is San Ysidro located 17 miles from downtown San Diego.