Surveillance video showing an unknown man setting fire to a dumpster in Hillcrest has arson investigators zoning in on a suspect sought in a series of fires in Uptown San Diego.
San Diego Fire-Rescue Department (SDFD) investigators with the Metro Arson Strike Team (MAST) released the short surveillance clip Wednesday, which shows a man walk up to a dumpster in the south alley of 1400 University Avenue.
Before he gets to the dumpster, he looks around, as if to see if anyone else is there. The man puts something in the dumpster and walks away.
Seconds later, as the man turns his back to the dumpster and walks away, the item he placed inside ignites, the small, orange flames visible in the footage.
MAST investigators believe this man – who has yet to be identified or located – could be responsible for several fires set intentionally in the Hillcrest community last month.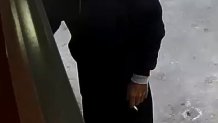 On March 21, an unidentified suspect set multiple fires within a two-mile area in the community, between 1010 Essex Street and 1727 University Avenue.
Investigators said all of the fires took place in the early morning hours between 7 a.m. and 8:30 a.m. All of the fires were lit in trash cans and dumpster in alleys.
MAST investigators said the person caught on camera setting at least one fire on University Avenue is described as a white man with eyeglasses, wearing dark clothing, including a gray hood, and hiking-style shoes.
Anyone with information on the suspect or this case can contact MAST at (619) 236-6815 or Crime Stoppers at (888) 580-8477.