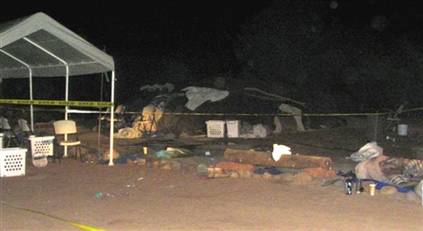 The Carlsbad offices of self-help guru James Arthur Ray were searched on Thursday after two of his clients died during a sweat lodge ceremony.
The deaths happened during a ceremony on October 8, while about 64 people were crowded in a makeshift tent at a retreat outside Sedona, Ariz.
After two hours in the tent some of the participants became ill and two of the attendees collapsed and died and 19 more had to be hospitalized.
The sweat lodge was not licensed, and investigators said they think the deaths were not an accident. On Thursday they were looking for medical records of the ceremony's participants and information on any previous sweat lodge incidents in Ray's Carlsbad offices.
Records also show local fire officials responded to the same retreat for a person who fell unconscious during a Ray-led sweat ceremony in 2005.
Participants paid more than $9,000 each for his five-day "Spiritual Warrior" program, which promises spiritual and financial wealth, according to the North County Times. The culmination of the program was the sweat lodge ceremony that ended in tragedy. On his Web site, Ray commented on the deaths and the ongoing investigation.
"I am shocked and saddened by the tragedy that occurred at Spiritual Warrior in Sedona, Arizona, Thursday evening. I wish to express my deepest heartfelt condolences to the family and friends of those who lost their lives as well as offer my prayers for a speedy recovery for those who were taken ill. Because there are so many more questions than answers at this time I believe it inappropriate to comment further until we know more."
Ray's spokesman said he is cooperating with the investigation.