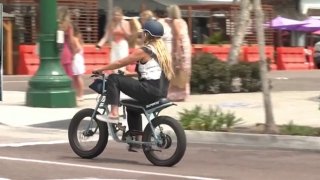 After nearly 200 incidents involving e-bikes and bikes in three years, Carlsbad has enacted a news series of laws in the hopes of creating a safer environment for people in the North County city.
The regulations went into effect on Thursday and are also targeted at unsafe operators of motorized scooters and other similar vehicles, including Segways and electrically motorized skateboards, city officials said. Violators will receive a citation or, in some cases, be offered the option to take a safety course.
The new ordinance directs operators to "ride with care and to reduce speed when needed for safety"; forbids passengers riding on handlebars or other areas of motorized devices not specifically designed for additional riders; and prohibits attaching secondary devices, like an additional bike. In addition, riders are banned from sidewalks, ditches, sports courts or gyms, and they also must get off their bikes, e-bikes and other devices on any trails narrower than five feet or if they're within 50 feet of a pedestrian or person riding on horseback.
Presumably, these bans would extend to the boardwalk, which, of course, is just a public sidewalk. Enforcement is not targeting the type of electronic scooters ridden by people with disabilities, officials said.
The new regulation come during National Bicycle Safety Month, when everyone, drivers and personal-vehicle riders, are all being urged to share the road and ride safely
Thursday's legal moves were approved after the "city council, Carlsbad Police, city staff and community members" observing "people riding e-bikes unsafely or violating traffic laws," according to a news release sent out on Thursday.
The city of Carlsbad and the city's school district plan on hosting an bike and e-bike safety and education workshop May 24 at 6 p.m. at the Pine Avenue Community Center. To attend, RSVP to Rosemary Eshelman Student Services Specialist at reshelman@carlsbadusd.net
Carlsbad's PD's community relations manager told NBC 7 that violators of the ordinance will be liable for a fine of up to $100 for the first offense, which doubles for the second offense, and $500 for a third or additional offense of the same violation. Those amounts are consistent other ordinances of the Carlsbad municipal code.