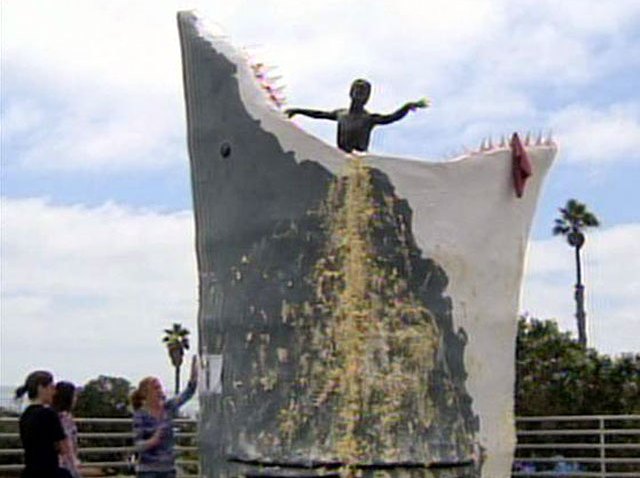 The mastermind behind the epic prank at the Cardiff surfing statue says he can't stop laughing and smiling.
The controversial statue of a surfer was attacked but not injured by a papier-mache shark in Cardiff on Saturday.
Pranksters constructed the shark's head around the statue, officially called "The Magic Carpet Ride" but referred to as the "Cardiff Kook" by some locals, without damaging it sometime in the early morning hours, sheriff's officials said.
"I'm glad that people are having a good time with it," said Eric, who didn't want to reveal his last name. "I'm really happy. I've heard people say 'we're taking pictures for our Christmas card.' Its great."
Eric, who is "a waiter by day and sculptor by night," says he actually came up with the idea a year ago. It took about two weeks for he and about 25 friends to put together the "Jaws-like" creature now getting national attention thanks to the internet. Its made out of newspaper, wood and chicken wire."
He says about 13 people got together around 4 a.m. Saturday and walked the creation over to the statue. What a sight that must have been.
"We were laughing so hard. I couldn't stop laughing once I put it in," said Eric. "We were just in hysterics. Everybody was just in such a good mood. It was so funny."
The city of Encinitas may not be as amused. The public works department plans to remove the papier-mache creation some time Tuesday.
But in the meantime, it has been the talk of the town. Some people have even started a mock petition to 'Save the Shark.'
"I guess when we first saw it, our first comment to one another was 'well, this is good advertising for Cardiff,'" said long time resident Jaqueline Pearson.
"Its a beautiful, wonderful crazy prank," she said.
The prank and ensuing attention has created a dilemma of sorts for city officials, who like the idea of people venturing up to the area to get a first hand look.
"My personal reaction is I love it," said Encinitas Mayor Dan Dalager. "The city's reaction is that we do not condone or encourage these kinds of things."
He said no legal action would be taken against the pranksters.
The surfing statue has been the source of strong criticism and a steady stream of pranks since it was first erected in 2007. Its located off South Coast Highway and Chesterfield Dr.
Many people feel the statue, and more specifically, the surfer's pose, is not representative of the local surfing community.
Over the years, the surfer, known affectionately as the "Cardiff Kook", has been dressed up in evening gowns, bikini tops and skirts, and even a wrestling mask. During Halloween, it was adorned in a giant pumpkin head.
Eric feels the expression of artwork has brought the community together.
"I think it's become a great piece because of that. It allows people to express themselves on a public scale.
Eric says he's been responsible for at least one other prank on the statue. He's not sure yet if he'll try again.
"Maybe I will, maybe I won't," he said with a sly grin.
This one will be a tough act to follow.
The statue, created by artist Matthew Antichevich, has been a favorite target of pranks since it was erected in 2007 at Chesterfield Drive and south Coast Highway.
Some said the surfer was striking a pose that's effeminate and said the guy looked like a ballet dancer.
So, some wise guy locals took matters into their own hands and dressed the sculpture up – in a skirt, bikini top and wrestling mask. Everyone we talked to at the time seemed to get a chuckle out of the gag. Dozens of people took pictures and posed with the less than fashionable model.
Let us know what you think. Comment below, send us your thoughts via Twitter @nbcsandiego or add your comment to our Facebook page.