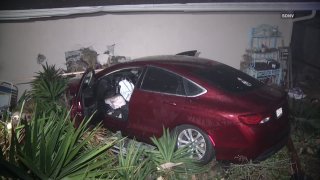 A woman driving in Rancho Bernardo suddenly lost control of her car and crashed through a wooden fence and into a home Wednesday morning.
The roadway was foggy as The woman was driving along a foggy Botero Drive when she lost control of the car for unknown reasons at about 2:40 a.m.
Her red sedan crashed through a fence, into a backyard, and then slammed into the back of the house.
Luckily, nobody was hurt, including the driver. Police do not suspect alcohol or drugs in the crash.
A structural engineer and a towing company were called to try to remove the car from the home.