An Escondido father and his 14-year-old daughter were injured by a suspected drunk driver whose truck hopped a curb and ran into a home Thursday night.
A 23-year-old Temecula man drove into an electrical box and into a house at Eveningside Glen and Country Club Lane around 7:40 p.m. Thursday.
The crash wiped out an entire deck and caused a large power outage in the area, according to officials.
Tony Vidaurri had just returned from walking his two dogs and was standing in his yard at the time of the crash.
Vidaurri was pinned underneath the pickup truck until emergency crews arrived. They used airbags to lift the truck off Vidaurri and then transported him to the hospital.
He suffered a compound fracture to his leg and broken bones in his face according to a family member. He was in surgery until midnight and was still hospitalized and listed in fair condition Friday.
Vidaurri's daughter was sitting at a desk inside the home doing homework. She suffered scrapes and bruises and was not hospitalized.
Neighbors helped detain the driver until police arrived.
"When they caught him and handcuffed him, he could hardly walk," said Mary Muehlerfelder. "He looked so intoxicated, it was ridiculous."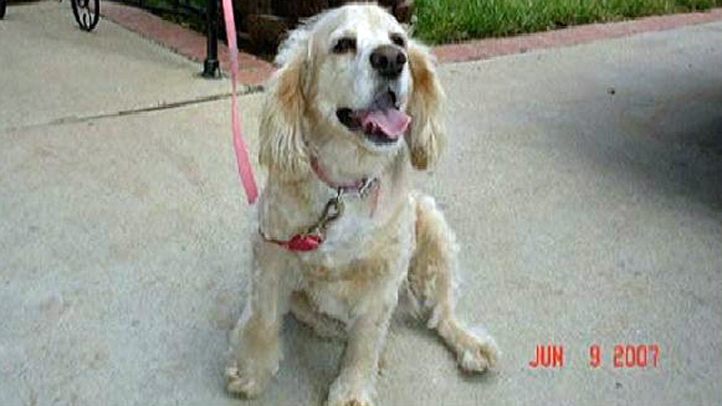 The driver has not been identified by Escondido police but will face charges of driving under the influence and causing injury as well as driving on a suspended license and violating the terms of his probation for a previous DUI conviction.
The victim's family initially released a picture of their cocker spaniel Juliet who ran away when the crash happened. She was found late Thursday night.
Another dog, Coach, suffered cuts and needed stitches but was said to be doing okay Friday. The bill for the vet's services was estimated to be around $1200.
At one time there were approximately 600 people without power, according to SDG&E.
Keep up to date on breaking news: Download our improved iPhone app, follow us on Twitter @nbcsandiego, fan us on Facebook, sign up for our breaking news e-mail alerts or text SDBREAKING to 622339 to receive text messages for local breaking news. (For more info, text HELP. To end, text STOP. Message and data rates may apply.)