A 94-year-old woman died after the car she was a passenger in crashed down a steep embankment and into the backyard of a home in La Mesa Monday afternoon.
The woman, identified weeks later as Beatrice Elaine Dapolito, was traveling with her 92-year-old husband drifted off the edge of their private driveway and eventually drifted down an embankment, rolling several times, according to California Highway Patrol (CHP) officer Travis Garrow.
The vehicle fell several hundred feet, landing in the back patio of a home on La Cruz Place, according to the CHP.
The 92-year-old driver had to be extricated out of the car by emergency crews and was taken to Sharp Memorial Hospital with moderate injuries, according to CHP.
"It sounded like a trash truck so I didn't think much of it. My wife started calling me outside, " said neighbor Jeff McCulloch. "There was a car that was upside down in another neighbor's yard," McCulloch added.
The crash happened around 3:45 p.m. near Alto Drive. SkyRanger 7 spotted a white car on its hood wedged between a home and a steep embankment on a hilly Mount Helix street. At the top of the embankment, a large palm tree had also fallen in the direction of where the car came to rest.
The reason for the crash is still under investigation. Alcohol and drugs are not suspected to be factors in the crash, according to CHP officer Garrow.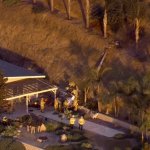 Check back for updates on this developing story.