Runners will be slinging their way through Camp Pendleton's annual Mud Run this weekend.
In its 23rd year, the race offers a 10K, 5K and 1K, and is open to both military and civilian participants.
Racers will face hills, tire obstacles, river crossings, walls with mud on both sides, a tunnel crawl, a slippery hill climb and a final mud pit.
Around 15,000 runners have already signed up. Online registration is closed, but onsite registration is open the day of the race at 6:00 a.m.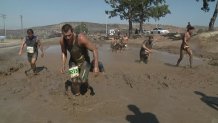 Hundreds of Marines will also run the course at the Commander's Cup on Friday.
The course will be open to the public Saturday and Sunday June 4 and 5.
The racing fee supports quality-of-life programs for Marines, sailors and their families.
Racers must have a driver's license to get on the base, and parking is free.