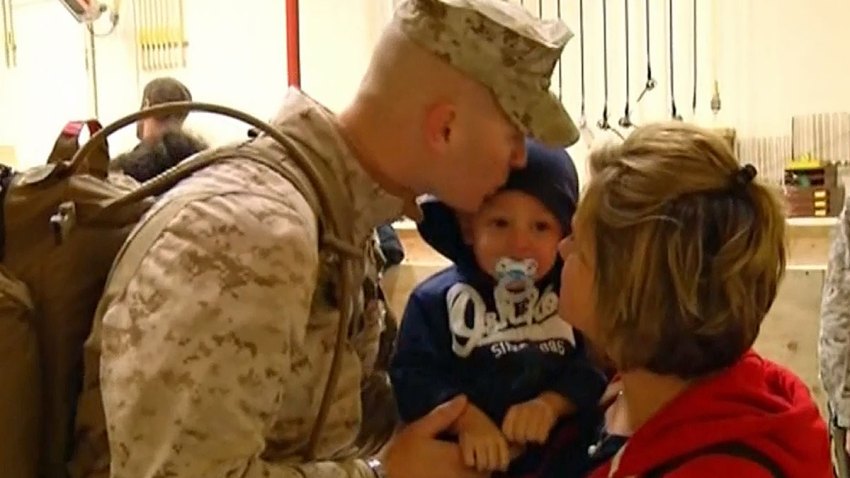 As more than 140 Marines left Camp Pendleton Monday, some took comfort in the fact that this will be the last major deployment to Afghanistan as the more than 12-year long war comes to an end.
At Camp Pendleton before dawn, the Marines from the 1st Marine Expeditionary Force were saying goodbye as they prepared to be the last major command deployed for Operation Enduring Freedom.
With equipment and bags packed, Marines spent their last moments at home, laughing and crying with friends and family before making the long trip to Afghanistan.
And they say they're ready.
"I'm getting to do a job that I've trained for and what not and that I get to go and some guy gets to stay back and be with their family," said Sgt. Jeremy Speacht.
With U.S. troops prepared to leave Afghanistan by the end of the year, it marks the beginning of the end of the war that began more than 12-years ago.
Lt. General John Toolan said I MEF has come full circle.
"We're sending the last group out there to close down and really to exit Afghanistan the same location they entered," he said.
With the end in sight, it's providing some comfort that the troops fighting at the front lines will be able to get a break from facing enemies abroad.
"It's been a long decade with two wars," said Col. Grady Belyeu. "Of course between I MEF and II MEF, we've been the primaries in both of those wars, it's been a constant on off on off so, I'm sure it's going to be relief."
While the deployment for the War in Afghanistan will come to an end, many will be looking to security agreement between the US and Afghan government to see how many American forces will still need to stay in the war-torn country beyond this year.
The troops are headed for Camp Leatherneck and Camp Bastion in Afghanistan, according to officials.
Once in Afghanistan, the group will reportedly assume command of Regional Command (Southwest), which includes both Helmand and Nimroz provinces.
According to officials the troops are going to replace Marines and sailors of II MEF as part of Operation Enduring Freedom.
They are scheduled to return at the end of 2014, in line with the government's time frame for pulling US troops out of Afghanistan.