Fire erupted Saturday in Lake County, about 100 miles north of San Francisco, and rapidly grew. One person has died and four firefighters have suffered second-degree burns.
Meanwhile, thousands of firefighters are battling the Butte Fire to the east, about 100 miles outside of Sacramento.
Mandatory evacuations are in effect in both incidents.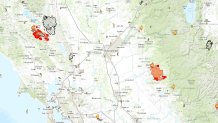 Here's a look at the Valley Fire and Butte Fires by the numbers:
12 hours: The time it took the Valley Fire to burn 60 acres, prompting a state of emergency
30 mph: Recorded wind gusts helping the fire spread, according to Cal Fire
20 miles: Distance between the devastation and the famed Napa Valley
61,000 acres: Size of the Valley Fire burning in Lake, Napa and Sonoma counties
4: Firefighters burned
5 percent: Containment of the Valley Fire as of Monday 6:30 a.m.
5,000+: Customers without power in the Valley Fire area
71,063 acres: Size of the Butte Fire burning in Amador and Calaveras Counties
30 percent: Containment of the Butte Fire as of Monday, 6:30 a.m.
4,409: Firefighters fighting the Butte Fire
28 years: Career of California's emergency chief Mark Ghilarducci who called this summer's fires are the most volatile he has ever seen.
23,000: People displaced in both wildfires