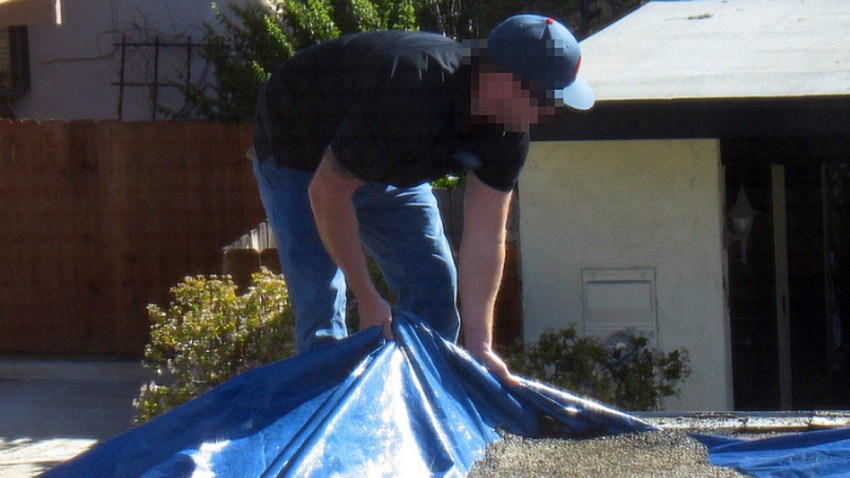 In a recent sting, the Contractors State License Board (CSLB) of California busted 15 contractors operating illegally in San Diego County – offering their unlicensed services to homeowners impacted by El Niño storms.
On Jan. 26 and Jan. 27, CSLB's Statewide Investigative Fraud Team (SWIFT) invited suspected unlicensed contractors to a home in Tierrasanta to place bids for home improvement projects including replacing a leaking garage roof, installing new concrete with drains to prevent flooding, replacement of a wooden fence and other non-storm-related jobs.
Investigators chose the contractors based on prior complaints and by combing through ads on Craigslist and local newspapers.
The two-day sting resulted in 15 unlicensed contractors placing bids on the home improvement projects, ranging from $1,200 for re-roofing to $9,000 for concrete work.
According to the CSLB, a state contractor license is required for any bid over $500 for the total costs of labor and material.
The suspects were each given a misdemeanor citation for contracting without a license. Twelve suspects were also cited for a misdemeanor charge of illegal advertising. State law requires unlicensed contractors to state in all advertising that they are not licensed, the CSLB said.
Investigators said three of the suspects were repeat offenders who were previously cited on illegal contracting charges during other similar CSLB stings.
One suspect, Breck D. Pemberton, was also found to have active warrants out for his arrest in Florida.
Investigators said Pemberton allegedly admitted to taking $9,700 for a job he never started. Currently, Pemberton is on the Florida Department of Law Enforcement's Wanted Persons list for larceny.
CSLB officials said one suspect, who was supposed to only place a bid for a kitchen remodel, noticed a tarp placed over the leaking roof of the Tierrasanta home and offered to fix that instead.
Investigators said this proves that many illegal contractors are taking this time – amid the strong, and in some cases, damaging El Niño storms – to "prey" on consumers as they prepare to safeguard their homes.
"We understand the sense of urgency consumers have to make sure their homes are protected from the rain and possible floods," said CSLB Registrar Cindi Christenson. "But it's very important to take the time to check the license first and find qualified licensed contractors for these types of home improvement jobs."
Investigators said they also cited one of the 15 suspects, Carlos M. Soliz, of Wildomar, Calif., for charging an excessive down payment for a home improvement project. The law states a down payment can be no more than 10 percent of the total contract price or $1,000 – whichever is less.
The CSLB said the following San Diego-based contractors were busted in this operation:
• Daniel Flores Bernal (Bernal's Concrete in Lemon Grove)
• Kiet T. Duong (Pro Fencing in San Diego)
• Timothy Lee Dye (of San Diego)
• Humberto Miguel (Elvira Home Repairs in San Diego)
• Santiago Jimenez (of Spring Valley)
• Joseph Eric Linn (of Escondido)
• Humberto Munoz (of San Diego)
• Breck Pemberton (of San Diego, wanted in Florida)
• Andrew Appleby (All American Hardwoods in San Diego)
• Arnulfo Castillo Garcia (of Escondido)
• Adan Rios-Hernandez (All American Hardwoods in San Diego)
• Randall Dean Houser (of Spring Valley)
• Pablo Rivas (SteelWorks in National City)
• Carlos M. Soliz (of Wildomar)
• David Quezada (of San Diego)
Officials said the suspects are scheduled to appear in San Diego County Superior Court on March 21, March 22 and March 23.
As El Niño conditions persist, the CSLB said this sting should serve as a warning to homeowners "to be cautious of unlicensed workers advertising for roof repairs and other flood prevention jobs."