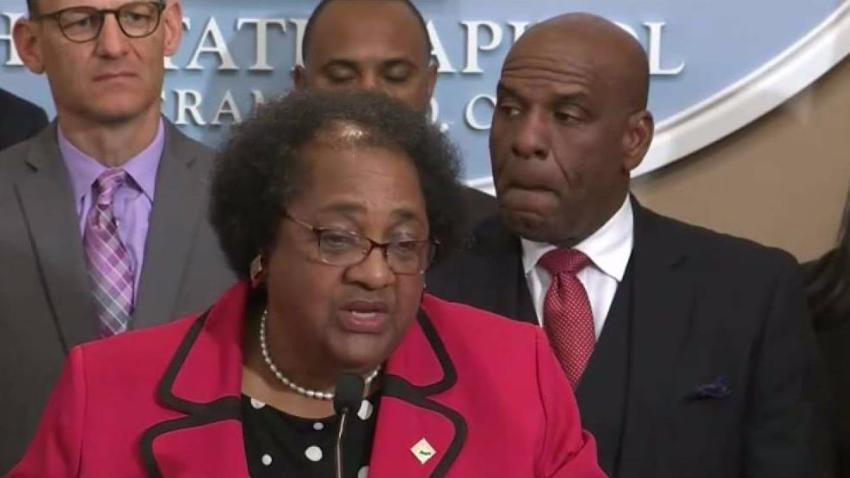 A California bill that would toughen the standard for when police can fire their weapons won't advance this year.
Senate President Pro Tem Toni Atkins announced Wednesday the Senate would not take up the bill before the Legislature's Friday deadline to pass legislation.
The legislation would have raised the threshold for when police can use deadly force from when it is reasonable to when it is necessary to prevent imminent and serious injury or death to the officer or another person.
The current "reasonable" standard makes it rare for officers to be charged after a shooting.
Law enforcement groups were opposed to the bill, AB 931.
"AB 931 has sparked one of the most urgently important debates of this legislative session," said California Senate President pro Tempore Toni Atkins (D-San Diego).
"California's current use-of-force standard is outdated and unconstitutional. It must be modified in a way that reduces preventable deaths and restores the public trust while balancing the ability of law enforcement to adequately protect the public safety," Atkins said.
The legislation was introduced by a San Diego lawmaker amid national outrage over police killings of unarmed black men.
Democratic Assemblywoman Shirley Weber says her bill, the Police Accountability and Community Protection Act (AB 931), was in response to the Sacramento shooting death of Stephon Clark, an unarmed, 22-year-old black man who was killed by police in his grandmother's backyard. Her bill was primarily aimed at protecting "black and brown men," Weber said.
Jack Schaeffer, president of the San Diego Police Officer's Association, said the bill is dangerous and irresponsible. He worried the new legislation would add more names and more pictures to the wall of fallen officers in the association's hallway. Thirty-three names are currently on there — examples of the ultimate sacrifice that officers are asked to make every day putting their lives on the line, he said.
The bill is "dangerous not only for police officers but for the public," Schaeffer said. "If the public needs assistance and an officer is second-guessing themselves, that could make the reaction even slower which could lead to somebody else getting hurt."
Atkins said there wasn't enough time in the legislative calendar to resolve all the concerns to get the bill passed.
"Make no mistake: we have a critical problem that remains unaddressed. We need to end preventable deaths and to do so without jeopardizing the safety of law enforcement officers," Atkins said.
Weber said her office would continue working on the legislation and present a new bill addressing law enforcement use-of-force in January 2018.
"My commitment is to the families of those who have lost loved ones and to those communities most affected by the current use-of-force standard. I want to thank them and all of those who have worked relentlessly to get this policy to this point," Weber said. "I will continue to need your energy, your assistance and your prayers as we continue this fight."