With dozens of firefighters working overnight to put out a wildfire that started near the border of Mexico in far east San Diego County, the blaze was 15% contained Tuesday, officials said.
About 80 firefighters were on scene Tuesday working to further contain the so-called Border 13 fire that began Monday at about 1:15 p.m. close to Dulzura and east of Marron Valley near state Route 94. Within an hour and a half, the fire exploded from 30 acres to about 350. Shortly before 5:30, an official with Cal Fire said 577 acres had been burned.
The acreage burned remained 577 on Tuesday.
Cal Fire spokesman Thomas Shoots said two people who were injured in the incident had to be rescued by a sheriff's helicopter, adding that three other people who were not hurt were rescued in an area deemed dangerous by Cal Fire personnel. Later in the afternoon, officials announced that a firefighter had been injured as well, suffering a mild knee injury.
Ground crews and personnel aboard air tankers and water-dropping helicopters fought the flames, according to Shoots. No structures are believed to have been damaged by the fire, which burned in a very remote area.
The fire started just east of where a brush fire scorched about 65 acres of land Sunday night.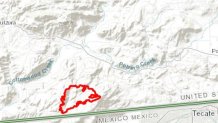 It was the third wildfire in San Diego County in about 24 hours. About 75 acres were scorched in Oceanside by a wildfire that prompted evacuations Sunday afternoon.