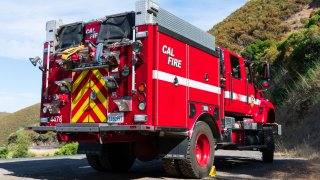 Cal Fire San Diego firefighters have stopped the forward spread of a brush fire along Marron Valley Road south of the South Bay Rod & Gun Club in Dulzura.
The fire sparked around 6:30 p.m. Saturday. By 7 p.m., the fire grew 20 to 25 acres.
"High voltage power lines in the fire area," Cal Fire tweeted.
Around 9 p.m., Cal Fire said the fire reached 70 acres and evacuation orders were issued for Bee Canyon Road and evacuation warnings were issued for all of Little Tecate Rd. But around 10:15 p.m., all evacuation orders and warnings were lifted as the fire spread was stopped.
By Sunday morning, Cal Fire updated their mapping and said the fire was stopped at 52 acres and was now 40% contained.
Firefighters will work through the day to build a containment line around the fire.
This is the second fire that broke out on Saturday. The forward spread of the Road Fire which first began Saturday around noon has been stopped, the Cleveland National Forest said.
No other information was immediately available.
Please refresh this page for updates on this story. Details may change as more information becomes available.