A new restaurant specializing in plant-based, 100 percent organic vegan eats is laying down roots in San Diego's Little Italy community.
Set to open Wednesday, Café Gratitude is located at Broadstone Little Italy, a mixed-use and residential building at 1980 Kettner Blvd.
The 4,000-square-foot café will serve breakfast, lunch and dinner daily, as well as gluten-free pastries to-go and fresh-pressed juices that are part of the eatery's chef-curated cleanse program.
The gourmet vegan eatery highlights healthy cuisine and organic ingredients from sustainable sources. To that end, many of the items use produce sourced from local farms as well as fruits and veggies from the founders' farm in Vacaville, Calif.
Items on the menu are named after positive affirmations, including the "Vivacious" appetizer ($8), oven-baked kale chips with a choice of garlic tahini, cashew nacho cheese or cashew ricotta dipping sauce, or the "Liberated" ($15), an entrée consisting of marinated pesto kelp noodles, heirloom cherry tomatoes, local black and green olives, wild arugula, basil hempseed pesto, cashew ricotta and brazil nut parmesan.
Breakfast dishes include the "Open-Hearted," gluten-free, buckwheat-flax pancakes with maple syrup, or the ""Bonita" taco plate boasting sprouted probiotic brown rice or quinoa, black beans, salsa fresca, avocado, cashew nacho cheese, toasted pumpkin seeds and a side of four corn tortillas.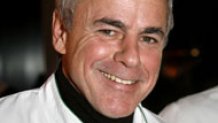 The eatery also offers coffee, tea lattes, smoothies, milkshakes, spritzers and "Wellness Elixers" such as the "Beaming," a vitamin C shot that combines orange juice, carrot juice, goji berry, camu camu, astragalus, acerola berry and amla berry.
This is the first San Diego-based location for Café Gratitude, which was originally founded in 2004 in San Francisco. The café has other locations in California, including Los Angeles, Venice Beach, Santa Cruz and Berkeley, as well as a restaurant in Kansas City, Mo. Another location will open later this year in Newport Beach.
The company's expansion into San Diego is supported by health-conscious singer-songwriter Jason Mraz, a major investor who lives in San Diego's North County, and a vegan food enthusiast.