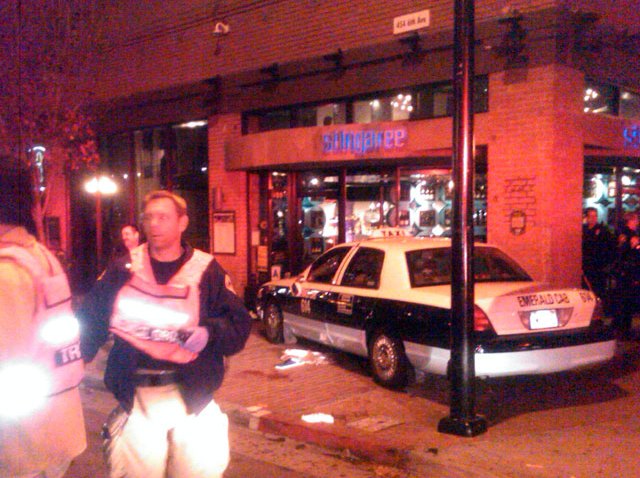 The driver of a cab that jumped a curb outside a popular nightclub in the Gaslamp area of San Diego, crushing a line of customers on the sidewalk, has been identified.
Sam Hassan Daly, 52, drove the Emerald Cab up onto the sidewalk and drove through a crowd of people exiting the club on 6th Avenue just before 2 a.m. on Saturday, according to police.
A 45-year-old woman's leg was severed after she was pinned against the wall by the cab. A 45-year-old man also sustained a fractured leg from the collision.
"33 other pedestrians were injured, either from the collision or the ensuing confrontation," said Lt. Rick O'Hanlon.
All of the injured pedestrians, with the exception of the woman whose leg was severed, have been released from area hospitals, police said Monday.
Twelve ambulances made trips to eight neighborhood hospitals, said Maurice Luque, a spokesperson for San Diego Fire and Rescue.
A witness who asked not to be identified was a block away when the crash happened. He said he ran back and saw women and men just everywhere, lying on the ground.
"People were pushing the car off the people because the car was on top of a lot of people," he said.
Patrons attacked the driver of the cab and then other fights broke out among the patrons as some people tried to reach their friends and were held back, according to Luque. Both firefighters and police officers described the situation as a "melee."
The witness said Daly was still sitting in the car when he got to the scene and that's when the crowd started to remove him from the car.
"They beat the s--t of out him," the man said. "Beat him up really bad."
Another witness claimed the crowd pulled Daly through the cab's windshield. However, images taken after the scene cleared show the cab windshield smashed but still relatively intact.
"Daly sustained a fractured nose during the incident. It is not known at this time if Daly's injuries occurred from the collision or the post-collision disturbance," said Lt. O'Hanlon.
The first officers to arrive to the scene were several on bicycles. They helped control the situation.
It's still a mystery as to why the cab lost control, according to Art Dougherty with SDPD Traffic Division. The driver was not speeding, according to Dougherty.
Daly has not been arrested.
The majority partner of Stingaree, James Brennan, released this statement Saturday morning: "Our deepest thoughts and prayers go out to the victims of this morning's tragic accident in front of Stingaree nightclub. We are cooperating in every way possible with the San Diego Police Department in their investigation to determine what led to this incident."
There were around 55 emergency services personnel on scene in addition to the police officers there, according to Luque.
"This is something that emergency crews train for all the time," he said.