Deputies in San Diego's North County are searching for two men who burglarized a pet clinic in Encinitas, stealing pricey computers from the business in a crime caught on tape.
In very clear surveillance video released by the San Diego County Sheriff's Department (SDSO) North Coastal Station on Thursday, two unidentified men are seen breaking the glass door to the Pacific Coast Veterinary Dentistry and Oral Surgery in the 500 block of Saxony Place.
Seconds after the men are inside the clinic, the security alarm sounds off and the suspects begin to move quickly, grabbing an Apple computer from a nearby desk.
About 38 seconds into the surveillance footage, one suspect appears to slightly slip as he tries to run through the clinic. The SDSO said that as the alarm sounded, one of the suspects dropped a machine used for analyzing blood – and a possible clue in the crime.
In the end, deputies said the two suspects stole two Apple computers from the business. The loss and damage to the clinic is estimated at more than $34,000. The burglary happened just after 5 a.m. on March 21, but details of the crime were released for the first time Thursday.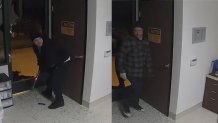 The SDSO said one suspect is described as a man between 25 and 30 years old, standing at 5-foot-11 and weighing approximately 195 pounds. He was wearing dark clothing and a black beanie cap. The second suspect is described as being between 23 and 28 years old, 5-foot-9 and about 160 pounds. In the surveillance video, he appears unshaven. He was wearing a black beanie, plaid jacket and dark-colored jeans.
The investigation is ongoing. Anyone who recognizes the suspects on the video can call the North Coastal Sheriff's Station at (760) 966‐3500 or Crime Stoppers at (888) 580-8477.