Firefighters battled flames in hot weather Thursday afternoon after a fire broke out near the arboretum of Palomar College in San Marcos and quickly spread across brush near homes.
The so-called Comet Fire began burning shortly after noon inin a native habitat preserve on campus, near the Edwin & Frances Hunter Arboretum, according to a tweet from the community college. It quickly spread to a small field east of Palomar College and north of San Marcos Middle School, in an area surrounded by dozens of homes. At one point, the fire came within 50 yards of houses on Kirkwall and Helmsdale drives, according to an agency that captures aerial footage of fires.
By 3 p.m., San Marcos Fire Department said the forward rate of spread had been stopped and that evacuation warnings would be lifted. Units will remain on scene throughout the evening. A cause was not yet known.
No structures are believed to have been damaged by the fire but Palomar College said it burned about 11 acres of the Palomar San Marcos Campus nature preserve, including Diegan Coastal Sage that is severely threatened in the region, Palomar College President Dr. Jack Kahn. The arboretum, which contains hundreds of rare and endangered species, was spared.
"The college will work with the San Diego Habitat Conservancy, which manages the preserve, to address the impact of the fire and consider preventative measures as necessary," Palomar College said.
Earlier estimates from fire officials said the fire burned about 40 acres, but the number was later revised to 11, according to Palomar College.
While the county at one point warned residents that they should "prepare to evacuate if requested or if you feel unsafe," no evacuations were ordered. The sheriff's department announced a little after 2 p.m. that concerned residents could use a temporary evacuation point at 399 South Twin Oaks Valley Road at Cal State San Marcos, in Parking Lots X, Y, and Z.
An early education center was evacuated, Palomar College said.
Cal Fire tweeted at about 1 p.m. that they had sent air resources -- two air tankers -- to help battle the blaze. A firefighting helicopter was also spotted overhead. Water drops and fire retardant released by the air tankers quickly slowed the spread of the flames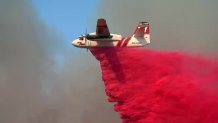 In addition to assistance from Cal Fire, the San Marcos Fire Department was supported in its efforts by the Carlsbad, Vista, Escondido, Encinitas, Rancho Santa Fe and the Oceanside fire departments.
Fire crews worked in hot weather -- temperatures were above 85 degrees, and humidity was just 18%. Fortunately, wind conditions were moderate, with a breeze blowing at about 6 mph.
Unfortunately, fire crews will need to remain vigilant in San Diego County: A red flag warning goes into effect at 4 p.m. on Thursday.
Firefighters remained on site overnight and into Friday morning to monitor for flare-ups.
While officials at one point had said the fire had burned 40 acres, that figure was later reduced to 20 acres -- Ed.