A brush fire that started at Walker Preserve Thursday morning has been extinguished and contained to 18 acres, according to the San Diego County Sheriff's Department.
Crews will remain on the scene to handle clean-up duties before investigating the cause of the fire.
It came amid a red flag warning, prompting an evacuation warning for residents in the area. It has since been lifted.
"I just heard the helicopter telling us to evacuate and I turned around and my whole backyard is on fire so we're going to go ahead and leave," said Santee resident Carlo Kalosian.
There were no injuries or damaged structures, said sheriff's Lt. Chris Galve.
The brush fire was reported in the 9000 block of Magnolia Avenue. The SDG&E cameras showed a large plume of smoke in the area at around 11:30 a.m.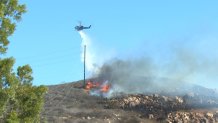 Santee is one of the communities that could be impacted by emergency power shutoffs amid a red flag warning that kicked off at 9 p.m. Wednesday.
The Santee Fire Department and Cal Fire San Diego are at the scene.
No other information was available.
Please refresh this page for updates on this story. Details may change as more information becomes available.