San Diego Mayor Kevin Faulconer has declared a local state of emergency after a rapidly spreading brush fire, fueled by dry conditions and high winds, ripped through the city's North County and prompted evacuations Tuesday.
Large plumes of smoke could be seen over the exclusive community of Santaluz and as far west as Interstate 5 after the Bernardo Fire sparked around 11 a.m. near Black Mountain Road west of Interstate 15.
As of 10 p.m., the fire had scorched 850 acres and sent thousands of families either heading to safer ground or preparing their homes for the possibility of evacuation.
No homes have burned, and fire crews estimate about 5 percent containment.
The borders of the Bernardo Fire stretch from Via de la Valle to the east, Dove Canyon Road to the west, Carmel Valley Road to the north and Camino Del Sur to the south. See map of fire area
Flames jumped over Camino del Sur at the same time school buses were carrying students from nearby elementary schools out of the area.
Around 2 p.m., flames estimated to be 7 to 8 feet high were marching west, burning heavy brush in canyon areas just east of San Dieguito Road.
Residents watched as fire crews from all across the county organized an attack on the brush fire from the ground and the air.
Santaluz resident Chuck Dawson said he watched as flames threaten his home.
"The heat is ferocious as you get close to it. In fact, it probably came within 25 feet of our house. Luckily we had about 30 firemen who barricaded it and it burned all the way around, but we're safe," he said.
San Diego police officers closed roads and helped San Diego County sheriff's deputies perform evacuations.
New mandatory evacuations were announced for Fairbanks Ranch, Fairbanks Country Club and part of Rancho Santa Fe from Paseo Delicias to Zamaque Street, officials said.
Areas under evacuation included portions of:
Torrey Highlands
Rancho Penasqutios
Black Mountain Ranch
Santa Luz
Fairbanks Ranch
Outer portions of Rancho Santa Fe
Camino Del Sur
Officials described the following communities as "areas of concern:"
Rancho Santa Fe
Fairbanks Ranch
San Diego
Black Mountain Ranch
Del Mar
Solana Beach
Areas surrounding the SDG&E 230 KV Power Lines
About 22,000 phone numbers were contacted for evacuations -- 5,000 in the county and 17,000 in the city of San Diego. That includes home, business and cell phone numbers, sheriff's officials say.
At 7:20 p.m., all residents within the city of San Diego were told they could return home. By 8:15 p.m., the rest of the evacuations were lifted.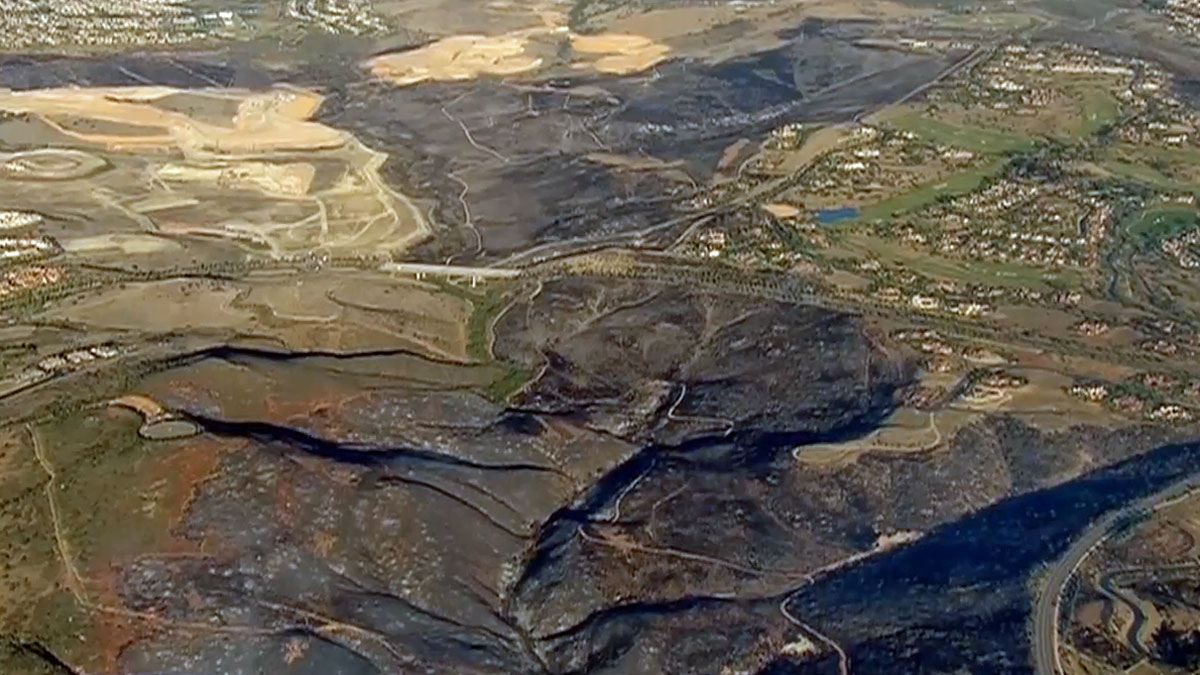 Evacuation centers were established at Torrey Pines High School, Poway High School and Rancho Bernardo High School. Officials shut down Torrey Pines HS due to excess smoke and sent many of those evacuated to RB High School. The point was fully shut down at 7 p.m.
The San Diego chapter of the American Red Cross reports 30 residents were at the evacuation centers. The organization said it will head to RBHS to prepare for overnighters.
Officials established a command post at Del Norte High School then moved it to Rancho Bernardo Community Park.
SDPD held over its first shift indefinitely and second shift started early to help with fire response.
A reverse 911 notification was sent to 1,000 homes from the 4S Ranch, Rancho Bernardo, Ranch Penasquitos area as a warning, not a call to evacuate according to San Diego County sheriff's deputies.
An NBC 7 News crew reports that high tension wires are preventing aircraft from making drops close to the ground on the west side of Camino Del Sur.
The fire started around 10:45 a.m. Tuesday at Nighthawk Lane and Camino San Bernardo, near Del Norte High School.
Lee Swanson, spokesperson for San Diego-Fire Rescue, said the fire started in an area cleared for new construction.
Residents were lined up along fences, watching as fire crews hosed down the brush close to their backyards.
"It is unusual in May to have wind-driven fires like this that prove to be such a challenge to contain," said San Diego Fire Chief Javier Mainar.
In southeastern Rancho Santa Fe near Zumaque Street, north of the fire, residents remembered the 2007 Firestorm when seven or eight homes burned.
While they have not yet been evacuated, residents say they will be ready to go if ordered to do so.
Resident of 4S Ranch Yvonne Leijen said she heard the alarms, saw the firefighters and immediately recalled a devastating brush fire that threatened the area years ago.
"It reminded me so much of the big fire in 2007," Leijen told NBC 7.
She said she went to the gas station and filled up her car, checked on her son's school and then returned to see how fire crews were handling the flames
"I thought, should I be smart? What should I do?" she said. "I hope the winds will die down soon."
Crews from the San Diego Fire Department, the Rancho Santa Fe Fire Protection District, the Poway Fire Department and the San Pasqual Fire Department responded to the fire.
Two helicopters were dropping water from Santaluz Golf Club onto the flames. Earlier in the day, air tankers were using fire retardant to try and direct the flames into the open space and away from the multi-million dollar homes in the gated communities to the west.
No injuries have been reported. There is no word yet what caused the fire.
Around 900 students at Willow Grove Elementary have been evacuated - some to Torrey Pines and others to Westview High School. Students at Stone Ranch Elementary were sent to Ranch Bernardo High School, according to the Poway Unified School District. There were 700 students evacuated from Del Sur Elementary School. Oak Valley Middle School and Del Norte High School were not evacuated.
Once evacuations of the school affected were completed, the buses were used to transport students not near the fire threat. Because delays could be hours, district officials suggested parents pick their children up from school.
The Poway Unified School District announced Tuesday evening that school will be back in session Wednesday. All San Diego Unified School District schools will be open as well.
As of 7:30 p.m. Tuesday, temperatures in Rancho Bernardo area were 88 degrees with 9 percent relative humidity and wind gusts averaging 15 mph from the east-northeast, according to the National Weather Service.
Air support was critical since some of the terrain is inaccessible, NBC 7's Whitney Southwick said.
Also, keep in mind that flames typically gain momentum as they race uphill.
As one firefighter told NBC 7, "The wind is taking it, and it's gonna make it a couple a day project here."
The Helen Woodward Animal Center evacuated a total of 400 animals to SeaWorld, Petco and the Del Mar Fairgrounds.
Of the 23 horses at the animal shelter near Rancho Santa Fe, 17 were evacuated Tuesday afternoon, as well as a number of dogs, cats, parrots, turtles, iguanas and other birds.
Fire crews will stay on scene overnight and through Wednesday morning, when officials say they expect winds to kick up again. Helicopters that can operate at night will be on standby.
The Bernardo Fire is the biggest blaze they've seen in the county since 2007, officials say.
Refresh this link for updates.
If you have breaking news pictures, send them to isee@nbcsandiego.com or tag with #nbc7breaking on Instagram.