A fire that sparked east of the Lower Otay Reservoir east of Chula Vista Saturday morning is 100 percent contained, officials said.
At 4:30 p.m. Cal Fire confirmed that the fire was 100 percent contained and that all personel were out of the area.
At 12:30 p.m. Sunday, containment had reached 60 percent. Firefighters used a combination of fire hose and retardant surrounding the fire. San Diego Cal Fire tweeted out that they will remain on scene through tomorrow morning.
At 10 a.m. Saturday, Cal Fire San Diego said the fire had scorched approximately 5 acres. No structures were threatened at this time.
By 10:45 a.m., officials said the fire had grown to 10 acres, with a moderate rate of spread. Crews were attacking the blaze by both ground and air drops. About an hour later, the fire was holding at 28 acres, and was 5 percent contained, Cal Fire said.
By 12:50 p.m., containment had reached 10 percent.
Smoke was visible throughout parts of the Eastlake community, including from Hunte Parkway and Otay Lakes Road.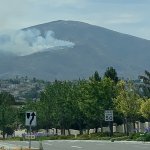 A few hours into the firefight, Cal Fire Battalion Chief Patrick Walker said access to the remote area where the fire was burning was the biggest challenge. He said some ground crews had been able to make their way into the area.
Walker said 11 engines, four fire crews, one bulldozer, three helicopters and two air tankers were being used to battle the blaze. No losses or injuries had been reported.
The battalion chief said crews would remain at the scene fighting the fire and monitoring hot spots through the day and night.
The cause is under investigation.
"We're in fire season, so be aware," Walker added.
The Lower Otay Reservoir is located at 1500 Wueste Rd. in Chula Vista, about 2.5 miles away from the Chula Vista Elite Athlete Training Center used by Olympic athletes. According to the City of San Diego website, the reservoir is used by the Training Center for rowing sports. When full, the Lower Otay Reservoir has 25 shoreline miles.
No other information was available.