A large contingent of firefighters was called out Friday shortly before noon for a brush fire in east El Cajon that has since been halted.
The fire was located near the 1600 block of Lotus Lane in the area known as Granite Hills, and was just east of Interstate 8 and not far from the Greenfield Drive exit.
By 12:30 p.m., flames charred an area of about 2 acres, according to Cal Fire.
The fire burned close to one residence but did not threaten any other homes. Firefighting aircraft, including a plane as well as at least one helicopter, aided ground crews battling the blaze.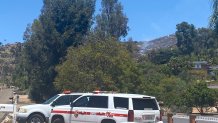 Shortly before 1 p.m., Cal Fire said the fire appeared to have burned 5 acres. By that time, it was obvious that the spread of the flames was stopped.
Cal Fire confirmed the forward rate of progress had been stopped and most air resources had been called off just before 2 p.m. Crews remained on scene mopping up and were expected to be there for several more hours.
Long streaks of red from drops of fire-retardant were visible, with the fire located in a remote area mostly occupied by chaparral and boulders.
The cause of the fire has yet to be determined.
There were no evacuations or injuries.