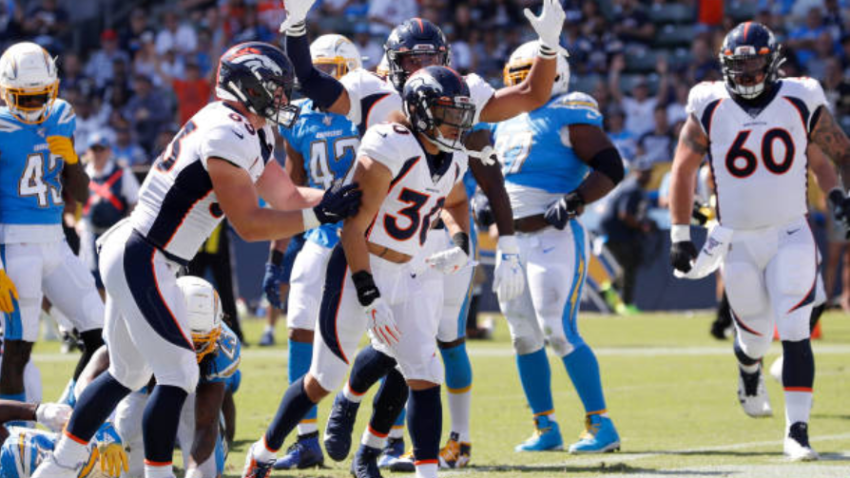 There was a moment late in the 2nd quarter of Sunday's Broncos-Chargers game where the Bolts were offense, driving to try and get their first points of the game. The crowd started up the familiar chant of "DEFENSE! (clap clap) DEFENSE!" to give the defense a little extra juice.
That's certainly not uncommon at football games across America. What's interesting is this game was not played in Denver. It was in Carson, CA and the fans getting loud were rooting for the Broncos.
The joke has been made several times that the Chargers play 16 road games but this atmosphere was a stark reminder of just how little inroads they've made in their new market.
Oh, and the Bolts ended up not scoring on that drive in a 20-13 loss, dropping them to 2-3 and giving the Broncos their first win of the season.
The Broncos scored touchdowns on their first two offensive possessions, the second one a 70-yard touchdown pass from Joe Flacco to Courtland Sutton that featured some truly atrocious tackling by the Chargers secondary. The lead was 17-0 in the 3rd quarter when it looked like the Bolts had a chance to get back into it.
Linebacker Kyzir White intercepted Flacco at the Denver 7-yard line but just three plays later Philip Rivers was picked off in the end zone by linebacker Alexander Johnson. The Chargers finally got on the board at the end of the 3rd quarter when Desmond King returned a punt 68 yards for a touchdown to cut the lead to 17-7.
A field goal made it 17-10 with 6:47 to play in the game and the Chargers defense, which played substantially better in the 2nd half, got the ball back with 4:22 to play. Rivers needed to drive 80 yards for the game-tying score.
He missed a wide open Melvin Gordon on a screen pass on 3rd and 10. Gordon was all alone and could have run a long, long way but instead the Chargers punted and that was more or less that. Brandon McManus his a 51-yard field goal to put it out of reach with less than two minutes left.
The Chargers got a short field goal from new kicker Chase McLaughlin but their onside kick attempt was unsuccessful so they fall to 2-3 and will host the 1-4 Steelers next week.