When San Diego native Jennifer Allen first comes on stage as Ursula, the villain in Disney's "The Little Mermaid," she makes walking and singing in her elaborate and exquisite costume look easy.
But there's a lot of preparation and work that goes into wearing the 50-pound costume for several hours on stage six days a week.
"It's so beautiful, and it's enormous," Allen, who grew up in Bird Rock, La Jolla, told NBC 7 in her dressing room Wednesday morning. "But I put her on and I say, 'you're gorgeous.'"
In the first act, the costume -- a detailed corset, plus a lengthy skirt and tentacles, secured on a thick belt -- weighs 50 pounds. By Act 2, it weighs about 60 pounds.
"They add an element to it," Allen explained.
And while it's challenging to sing, move and act in the costume, Allen said, it's something she prepares for. Eventually, she said, you get used to wearing it.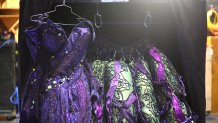 "It's every day that you're on the road or doing a show that you have to plan your day that ends up to your performance at night," Allen said. "There's a lot of discipline."
Allen has been in the musical version of the popular Disney movie musical for two years now. She first stumbled upon the role by complete chance.
She was working on a different production, a workshop of Prom the Musical, with a choreographer who later recommended her for the role of Ursula. The tour had just lost their Ursula and needed someone to quickly step in.
"Two years later, I have an accidental job, which is always the most fun kind of thing to have happen," Allen said. "Something falls into your lap, so I'm very grateful for that."

Two years may seem like a long time to play the same role, Allen said, but the character of Ursula is such a complex and fun role.
"I have to say, the role is that satisfying," Allen explained. "It's really fun. It can change and shift every day, there's a lot of improvisation capabilities within the role."
The musical, with music by eight-time Academy Award winner Alan Menken and book by the Pulitzer Prize-winning Doug Wright, has a book that dives much deeper into the plot than the movie does, Allen explained.
"It goes much deeper, it has a lot of colors to it that I really enjoy finding every night in a different way with different audiences," Allen said. The relationships between Ariel, Ursula, Price Eric and King Triton are examined in greater depth.

Allen is a third generation Bird Rock resident. Her family built a home in the La Jolla community decades ago, and every time she comes home, she still drives by the house.
Growing up, Allen performed with the San Diego Junior Theater, Starlight, the Old Globe and more. Her mother, Priscilla Allen, was a beloved San Diego actress, so acting came to Jennifer naturally.
"It just was something that was naturally present, from probably before I can remember," Allen said. "It was the thing I could immediately do well. Not perfectly, but it was the skill set that I had."
Her mother performed at the Civic many times, Allen said, and she's seen many shows there as well.
But she's never performed on the stage, often used for touring productions, the San Diego Opera and other large productions.
Stepping on the stage again is intense, Allen said.
"There's a lot of intense things that connect me with my childhood here," Allen said.
Still, her extended family and family friends will all be there in the audience, cheering her on as she belts out Ursula's iconic songs.
Disney's "The Little Mermaid" is in San Diego through Sunday. For tickets, click here.