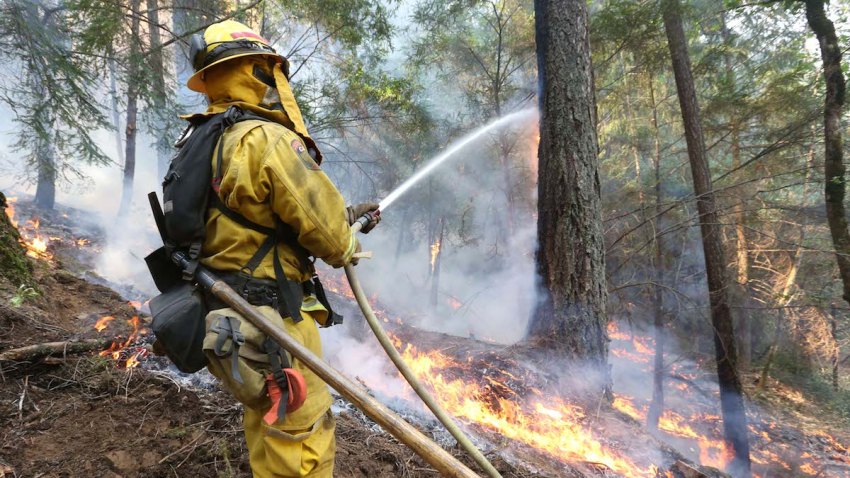 Two months after a roaring blaze scorched more than 1,000 acres around David Mejia's house east of Los Angeles in Riverside County, the retired businessman keeps his important papers at the ready and a watchful eye for another wildfire.
"It's always in the back of your mind," he said.
"Especially since we're in a drought," he said. "It's supposed to get hot and stay hot. We didn't have much of a winter."
California is in the fourth year of a drought — a bone-dry spell that has brought unprecedented water restrictions -- and blazes like the one that threatened Mejia's house are becoming more frequent. Wildfire season traditionally runs from May through September, but with vegetation so parched the season now stretches through the year in places, straining budgets and leaving some people in fire-prone areas increasingly anxious.
"This drought is definitely taking its toll on the state," said Lynne Tolmachoff, a spokeswoman for the California Department of Forestry & Fire Protection or Cal Fire. "We need all the help we can get."
Mejia admits he was unprepared when an unattended cooking fire sparked flames around the Prado Dam over the Santa Ana River on April 18 — even though a wildfire swept through the same area about 13 years earlier. He packed papers and photographs into his SUV when one of his brothers insisted he evacuate.
"You just forget about it," he said of the earlier fire.
Last month, a dozen fire chiefs used a scarred landscape east of Sacramento as their backdrop as they warned that this year's fire conditions were the worst on record. California has already had 2,486 wildfires since the beginning of the year, up from 1,654 the state has averaged over the last five years, according to Cal Fire. Eighty-six hundred acres have burned.
The chiefs assembled in Pollock Pines where in October the King Fire raced through more than 97,000 acres and burned Sally and Garry Dykstra's house to the ground on their 51st wedding anniversary. With only 10 minutes to evacuate, they grabbed a suitcase packed for a cruise they were about to take, Garry Dykstra's medicine and a couple of guns, Sally Dykstra said.
"They were yelling at us to get out so we couldn't grab anything else," Dykstra, a 72-year-old retired hair dresser, said.
Left behind were their passports, expensive roller skates, costumes and trophies from years of competing in dance roller skating and Garry Dykstra's 50-year-old train collection. They went on their cruise but without passports had to remain aboard the ship when it docked.
The Dykstras were always aware of the possibility of a fire. One had burned nearby while they were building their house 20 years ago, forcing evacuations and leaving ashes everywhere.
"I had a box near the door that looked just real cute and had baby pictures," Sally Dykstra said. "We didn't grab them. We didn't have time."
After months in an RV parked in a friend's driveway, the Dykstras have moved into a new house on their property. But since the fire, Sally Dykstra has had a stroke, and Garry Dykstra, a former sheriff's deputy, was hospitalized with pneumonia. They found their cat, "Precious," missing after the fire, but have had to find her a new home. They plan to move away in a year or two, closer to a hospital and doctors.
Sally Dykstra said she was not worried about another fire because the vegetation around their house is gone. Their immediate problem is the 75 to 100 burnt trees on their property. Their neighbors were able to sell their trees for lumber, but now there is a glut and it will cost the Dykstra's $90,000 to have them removed — most of which insurance will not cover.
"That has me very nervous," she said.
Lorraine Barber, an accountant for the County of El Dorado's treasurer and Tax Collector's Office, had only smoke and ash to clean up after the King Fire, which authorities say was the result of arson. Her photos and documents are already on an external hard drive.
But she said in an email: "It does change your view of your surroundings. Our property was overgrown with brush and low lying pine tree branches. We are busy clearing all low growing brush and removing all bushy dry plants near the house."
One sign that things have returned to normal, she said: The neighborhood bear returned for the first time in a year with her cub.
The American Red Cross and Cal Fire recommend ways to prepare for wildfires, from removing brush and weeds to create buffers around houses to making buildings more durable to having an evacuation plan and practicing it.
Merritt Schreiber, the state coordinator of the California Psychological Association's Disaster Response Network, said whether residents were evacuated, how much notice they received and whether they or their families were in danger or were injured all can contribute to their recovery from a crisis. Children may be particularly affected, he said.
[NATL] Top News Photos: Pope Visits Japan, and More
If residents are not prepared for a disaster, they may need to make snap judgments about what to take or to leave before they are ready, Deborah Hopper, the acting chairwoman of the Disaster Response Committee of the San Diego Psychological Association, said in a statement. They may risk their lives by staying too long.
Her suggestions: Plan for a disaster, including preparing a to-go bag and getting supplies to remain at home if necessary, learn how to become more resilient, let others help after a crisis and seek additional professional after a month or two later if feelings of distress continue.
"For someone to be able to assess and let you know what you could do to help yourself," she said.
Normal reactions to a disaster — flashbacks, trouble concentrating or making decisions, strained personal reactions, trouble eating or sleeping or physical symptoms such as headaches, nausea or chest pain — typically subside within a few months, according to the American Psychological Association.
But people who lose everything or who are grieving after a death can be affected for a long time, Hopper said.
Wildfires have long threatened lives and property in California. Since 1991, California has experienced seven of the country's 10 most costly fires according to a ranking from the Insurance Information Institute. The most catastrophic was a brushfire that swept through the Oakland Hills in 1991 and killed 25 people. At the time, damage was estimated $1.7 billion.
But the drought has brought new dangers. Dry conditions have resulted in more than 270 new wildfires last week alone. California had budgeted $209 million to fight wildfires for the fiscal year beginning July 1; through last week the state had spent $241.5 million, said H.D. Palmer, a spokesman for the state's Department of Finance. For the coming fiscal year, the state has increased the firefighting budget to $392 million.
In September, a fire devastated the small town of Weed, California, along Interstate 5 about 50 miles south of the Oregon state line. The Boles Fire forced more than half the people who live there to evacuate and destroyed or damaged about 150 buildings, including the Holy Family Catholic Church and Grace Community Evangelical Presbyterian Church. A month later, police arrested a man suspected of starting the blaze.
Dee Houck, a 42-year-old mother of four whose husband works at the College of the Siskiyous, the community college in Weed, watched the fire race up a hill and burn a neighbor's house.
"I was scared to death," she said. "We had minutes to evacuate our six pets, our children and anything we could grab."
She and her family stayed with friends for a night and were able to return the next day. Since the fire, they have bought renter's insurance, leave their pet kennels clipped together in a spot easily reached and have assembled a fire box with important items.
Weed is a historic logging city at the base of Mount Shasta in the Cascade Mountains. Some residents were already struggling financially, Houck said.
"There's a fear here that maybe we didn't have before," Houck said. "Because you know, "That's never going to happen to us.' And it did. And so when the wind blows up or you see a campfire or something like that, you have a really healthy fear now of fire and what it can do and what it's all about, how quickly it can move and change lives."
About 60 percent of the residents who lost their homes are rebuilding, Weed Mayor Bob Hall said. Some were not insured or were under-insured, others do not have the resources to meet new building requirements, but the rebuilding is going well, he said.
Houck, who is originally from Minnesota, said she had thought about moving to somewhere greener and wetter but also that she had made a home in Weed.
Had her house burned, she said, "It's scary to rebuild in a fire zone."
In the end, Mejia's house was undamaged. One of the first things he did after the fire was trim plants back. Even now he finds burnt sticks and leaves in his yard. He worries about the vegetation that remains by the Prado Dam, eucalyptus trees that didn't burn for example.
"The summer isn't over yet," he said. "There is still a lot of vegetation down there."