Former All-Star pitcher Esteban Loaiza appeared in a U.S. court Tuesday and asked for a reduction of his $200,000 bond, citing inability to pay.
Loaiza's attorney, Janice Deaton, asked a judge to reduce the bond to $120,000 so that he could use a property bond on a house he owns in Dallas. The request was denied.
Loaiza pleaded not guilty last month to drug charges involving 44 pounds of suspected cocaine.
He was arrested on suspicion of drug smuggling after San Diego County sheriff's deputies found a "sophisticated" compartment used to hide contraband in his vehicle. Later authorities obtained a search warrant for the home he rented in Imperial Beach, where officials say packages containing a white powder believed to be cocaine were found.
Loaiza had leased the home in early February, deputies said.
An attorney representing Loaiza waived further reading of the complaint and did not contest bail.
The prosecutor told the judge Loaiza had arrived in the U.S. from Mexico on the day of his arrest.
"It doesn't matter who you are, it doesn't matter what you do for a living —what you used to do for a living — you will be prosecuted justly and fairly under the laws of the state," Deputy District Attorney Ryan Karkenny said.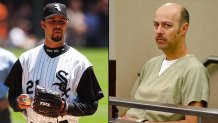 Born in Tijuana, Mexico, Loaiza attended Mar Vista High School in Imperial Beach. After his 1995 debut in the major leagues, he went on to pitch for the Pirates, Yankees, Oakland A's, Dodgers and others.
Loaiza was also the husband of Jenni Rivera, the Mexican-American pop star who died along with six others in a 2012 plane crash. The 43-year-old superstar filed for divorce from Loaiza two months before the crash.
Loaiza was booked into the South Bay Detention Center before 6 p.m. Friday.
Loaiza was charged with possession more than 20 kilograms along with two counts of transporting and possessing narcotics with the intent to sell — all felonies.
[DONT CHANGE MAIN HEADLINE] San Diego's Border Busts
Copyright AP - Associated Press