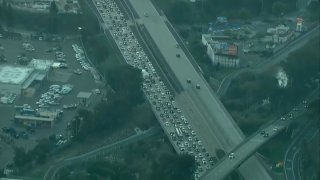 The morning commute was brought to a crawl Thursday morning in La Jolla after a pedestrian was struck by multiple vehicles on northbound Interstate 5.
California Highway Patrol said in a statement at 5:51 a.m., a man who had walked on northbound Interstate 5 was struck by several cars just north of Mission Bay Drive.
He was initially hit by a black Mazda then struck by an "unknown number of other vehicles," the agency said.
The man died at the scene of his injuries.
Several lanes of I-5 were shut down as a result of the investigation, snarling traffic in the morning. The lanes were reopened at 10:14 a.m.
It is unclear why the man wandered on the freeway or how he got there. CHP said investigators are working to determine if drugs or alcohol played a factor in the death.
The name of the deceased was not released.
Anyone with information on the case is encouraged to contact CHP Officer D. Rhodes at (858) 293-6000.
The investigation is ongoing.