A 24-foot long boat with five passengers capsized in the water near Windansea Beach in La Jolla Wednesday night, according to San Diego Fire-Rescue Department (SDFD).
It happened just after 6 p.m. near Nautilus and Westbourne Street.
San Diego lifeguards rescued four men, while one still unaccounted for as of 10:30 p.m. The men said they had been lobster net fishing when a large wave overtook their boat, causing it to capsize.
A helicopter was requested by the rescue operation to aid in the search, said SDFD official Lee Swanson.
Lifeguards swam out to the victims and pulled two of them to shore. The other two were rescued by lifeguards on a surf boat, Swanson said.
NBC 7 spoke with two of the fishermen, who said they were cold but okay.
"Traumatic experience for them, obviously but they were very stable fortunately. They didn't have a lot of injuries," said Good Samaritan Mike Yount.
Yount, a retired paramedic and firefighter, had volunteered to help rescue the men.
"They came in a little close and some witnesses said they came in, tried to go out, lost the motor, got caught in the surf," Yount told NBC 7.
Former NBC 7 reporter Liz Bryant, who lives nearby, told us she had watched the rescue and said after 15 to 20 minutes in the water, one lifeguard found himself in need of help.
"He was hunched over coughing up seawater," Bryant said. "The other lifeguard said 'we worked with him for a long, long time and we've never seen him like this.'"
Surfer Ryan Miller helped the lifeguard pull the two men to safety.
"The guys were couldn't even stand. The guy could barely swim. The lifeguard himself was actually getting pretty winded," Miller said.
After searching for over an hour, lifeguards suspended their search but the San Diego Coast Guard was still actively looking for the fifth passenger.
The four rescued passengers had been wearing life jackets but the man still unaccounted for was not, Swanson said.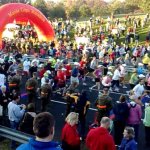 Two victims were transported to Scripps La Jolla Hospital and later released. The other two were taken to Scripps Mercy Hospital.
One lifeguard swallowed a large amount of water after he was blindsided by a wave. He was taken to the hospital and is expected to be released on Thursday.
No other information was immediately available.
Check back for updates on this breaking news story.