This article has been updated to include a statement from Immigration and Customs Enforcement (ICE.)
An internal email shows the head of San Diego's Homeland Security office ordered his agents to increase their intelligence-gathering efforts on the migrant caravan.
This while lawmakers continue to respond to an NBC 7 investigation showing border agencies tracking journalists, attorneys and immigration advocates in a previously secret surveillance program.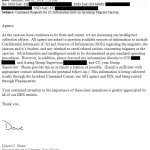 The email, obtained by NBC 7 Investigates through a Homeland Security source, is dated December 1, 2018, from Special Agent In Charge David Shaw.
The email provides new details about a secret database used to gather information on 59 individuals from the United States and other countries, as well as details on how Homeland Security relied on confidential informants to gather intelligence on "any criminal or cartel-related actions concerning migrants or the caravan."
Shaw told agents to forward any new information gathered through interviews directly to the agency's "Chief Intelligence Officer."
A Homeland Security source told NBC 7 Investigates agents were advised to be on the lookout for evidence of cartels using the caravan for human and drug smuggling.
NBC 7 asked the Department of Homeland Security (DHS,) Customs and Border Protection (CBP,) and Immigration and Customs Enforcement (ICE) about the email but the offices did not respond.
UPDATE - Saturday, March 9, 2019:
A spokesperson for ICE Homeland Security Investigations said the agency does not comment leaked internal documents.
For context though, the agency said, "As the largest investigative component within the Department of Homeland Security, the gathering of intelligence on any kind of potential cross-border/transnational crime is a critical part of HSI's mission. However, that does not mean that each intel item or lead will turn into an investigation, arrest or criminal prosecution."
On Thursday, a CBP spokesperson defended the surveillance program as a "standard law enforcement practice," and necessary response to assaults against Border Patrol agents in November 2018 and January of this year.
Documents uncovered by NBC 7 show agents continued to stop, question and gather information on 59 individuals, including ten journalists, two attorneys and 49 people labeled as "organizers," "instigators," or having unknown roles, tied to the migrant caravan.
"I know one photographer, in particular, had his notebook looked through," recalled photojournalist Ariana Dreshler. Drehsler said she was stopped and questioned extensively at the border three times in late December and January.
"There is another photographer to whom they showed images of people, asking if they could identify anyone," Drehsler said.
On Friday, U.S. Senators Richard Blumenthal (D-Connecticut) and Jeff Merkley (D-Oregon) joined the chorus of lawmakers who have voiced "grave concerns" about those controversial methods used by the federal agencies involved.
In a letter to the Department of Homeland Security Secretary Kirstjen Nielsen, Blumenthal cited NBC 7 Investigates' reporting this week and asked a series of questions on the documents NBC 7 obtained.
"Placing journalists, attorneys, and activists on a watch list may be a favorite move of one of the many autocratic rulers this President counts as a friend, but it is not a move we should tolerate in our democracy," Blumenthal wrote.
Both Senators Blumenthal and Merkley urged DHS to immediately stop the program if it's still underway.
"The federal government should not treat journalists, attorneys, and advocates as though they are part of a vast criminal conspiracy requiring surprise interrogations, unannounced warrantless searches, or other actions commonly associated with a criminal law enforcement operation," Merkley said.
On Thursday, NBC 7 Investigates requested a comment from Republican Rep. Duncan D. Hunter, 50th District, about the CBP surveillance program but his office has not replied.
"CBP does not target journalists for inspection based on their occupation or their reporting," said the Assistant Commissioner of CBP Public Affairs, Andrew Meehan on Thursday. "Efforts to gather this type of information are a standard law enforcement practice."
The Office of Inspector General in the Department of Homeland Security is also conducting an internal review of the San Diego sector program.